Workstation mats perform several key functions. From protecting floors to keeping employees fresh and focused, workstation matting is a cost-effective safety investment capable of delivering consistent dividends long into the future. Below, browse recommended mats for workstations. Then, learn about the key benefits of investing in these unique safety mats.
Recommended Mats for Workstations
Experts always know best. Below is a collection of industry leading workstation mats, curated by the editors of the Eagle Mat Blog. Find your ideal mat below, or call Client Services for additional assistance.
Marble Top Workstation Mat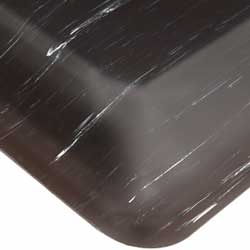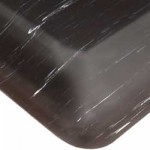 Our most popular workstation mat.
Antimicrobial treatment prevents the spread microorganisms.
Anti-fatigue construction keeps workers fresh and focused all day long.
Comes in both ½" and 7/8" thicknesses.
Available in custom shapes and sizes to accommodate for unique workstations.
Ultrasoft Diamond Plate Workstation Mat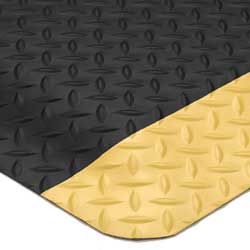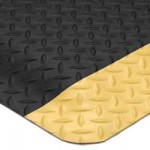 Anti-fatigue construction.
Our most heavy-duty workstation mat.
Nitricell sponge base with durable Nitrile rubber outer.
Diamond-plate surface provides extra traction and grip in high traffic areas.
Edges lined with yellow for enhanced visibility and worker protection.
Diamond Plate with Gritworks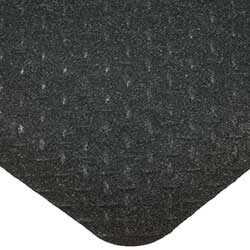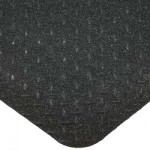 Ideal for use in dry areas.
Anti-fatigue properties keep workers fresh and focused.
Custom sizes available to accommodate workstations of all sizes.
Gritworks provides superior traction in areas affected by light overspray, grease, and oil accumulation.
Grit surface known to provide up to 50% increased traction, delivering more grip and stability to workstation environments that need it most.
Corrugated Spongecote Workstation Mat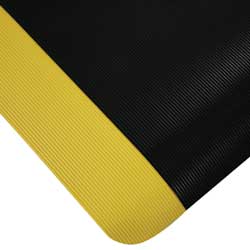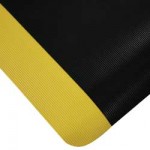 Ergonomic with anti-fatigue support.
Beveled edges reduce trips, slips, and snags.
Eco-friendly mat features 50% recycled content.
Nitricell base with commercial-grade Nitrile rubber & PVC compound outer.
Ideal for use with workstations and areas that use wheeled carts and/or wheeled machinery.
Foot Lover Workstation Mat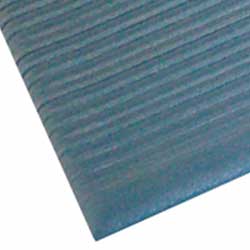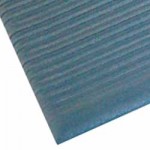 100% vinyl mat.
Most economical workstation mat.
Fight fatigue on a budget: Features ergonomic construction to promote circulation and reduce muscle fatigue.
Comes 3/8" thick.
Beveled edges reduce slips, trips, and snags on high traffic workstation areas.
Hog Heaven Workstation Mat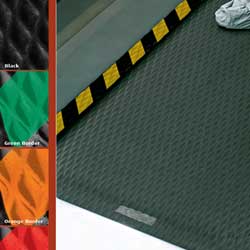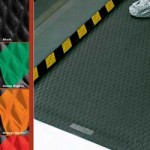 Our best selling anti-fatigue workstation mat!
Made using 100% commercial-grade Nitrile rubber.
Superior resistance to oils, chemical abrasion, & slips.
The Hog Heaven Promise: Guaranteed not to crack or curl.
Custom sizes available to fit unique workstation areas.
Soft Floor Drainage Mat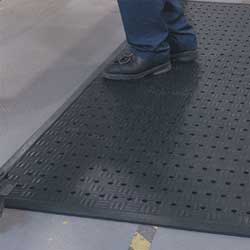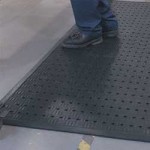 For use in semi-wet areas.
Water, grease, & oil proof.
Enhance traction, grip, and stability.
Anti-static: Protects against electrostatic-discharge (ESD).
Featuring 100% commercial-grade Nitrile rubber construction.
24-7 Drainage Tile for Workstations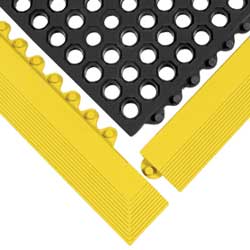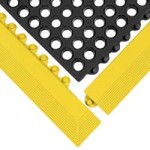 Our most popular modular tile for workstations!
Ideal for semi-wet & wet areas.
Anti-fatigue properties keep workers fresh and focused.
Ideal for single workstations, or piece together to seamlessly cover larger workstation areas.
NBR formula designed for heavy-use areas exposed to oil (petroleum-based) fluids.
CFR formula designed for heavy-use areas exposed to mineral oil cutting fluids.
Diamond Top Interlocking Workstation Mat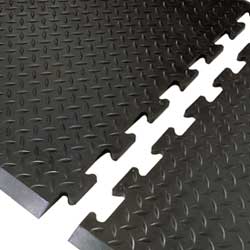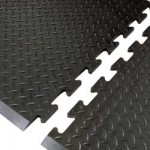 1/2" thick.
Diamond tread for extra traction.
Individual tiles can be replaced, without having to replace the entire mat.
Piece together seamlessly to cover large, custom workstation areas.
Ideal for use along machines, long work benches, single workstations, elongated workstations, assembly lines, and more.
Worksafe Anti-Fatigue Workstation Mat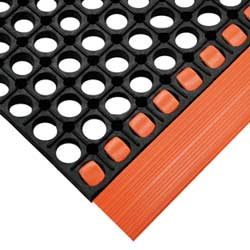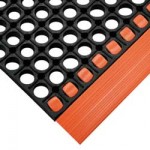 Ideal for wet areas.
Use single mat for single workstation.
Piece together to seamlessly cover floors along larger workstations.
Pieces lock tightly together, yet can be rolled for clean up.
Large drainage holes quickly channel liquids below the walking surface.
Anti-fatigue feel keeps workers fresh and focused throughout the working day.
Shop Anti Fatigue Workstation Mats
To shop these products and more, visit our Anti Fatigue Mats online store. Free shipping and guaranteed low prices for all online orders!
Benefits of Workstation Mats
1. Fight worker fatigue. Fatigue is one of the most dangerous things to occur in a commercial manufacturing facility. Muscle tension, cramps, and loss of focus are among the key contributors to workplace accidents. Risk is elevated when the facility includes heavy machinery, electrical equipment, and industrial chemicals. It's important to remember that a tired employee is not just a risk to him or herself; fatigue related accidents have the potential to cause serious injury to coworkers as well.
Workstation mats feature a unique construction that helps dissolve muscle tension, cramps, and strain through the feet, legs, core, and shoulders. By providing a cushion-like standing surface, these mats engage the muscles of the body in a subtle yet highly therapeutic way. With anti-fatigue workstation mats, employees can perform for hours without feeling tired or losing focus.
2. Control liquid spills. Sprays and other liquid treatments are sometimes a vital part of the production process. However, the use of liquids at workstations and along assembly lines opens the door for slips, falls, and injuries. Grease and other oil-based liquids are most dangerous since they are the toughest to clean from floor surfaces.
By installing floor mats at workstations, facilities can protect employees from potential slip and fall accidents resulting from oil and/or liquid accumulation. Some mats feature a special "grit" surface to enhance traction, while others use drainage slots or holes to channel liquids below the mat and away from the walking surface.
3. Improve walkway traction. Semi-wet and wet areas are not the only places where more traction is needed, however. Many workstations involve lifting, moving, or controlling heavy elements of the production process. From product parts to machines and wheeled carts, there are many moving pieces to the production facility puzzle.
Mats for workstations improve traction in these areas, providing a dry and gritty surface that delivers more grip than uncovered floors.
4. Improve workstation visibility. Some areas of the production facility benefit greatly from having clearly marked workstation standing areas and walkways. Workers can more easily and safely navigate workstations when important areas and routes are clearly marked with bright colors. Workstation mats are available with bright safety colors along the edges to assist in keeping workers safe in dangerous environments.
Product Recommendation: See Hog Heaven Anti-Fatigue Mat above, available in 4 OSHA-approved safety colors.
5. Reduce bacteria. There's no room for bacteria in today's commercial production facilities. Bacterial infestations are dangerous to workers, and they can ruin production runs. Food production facilities, in particular, must focus on preventing the formation of mold, mildew, and other bacteria within production facilities.
Some workstation floor mats feature a unique antimicrobial treatment to prevent the formation of bacteria and other microorganisms. This feature varies by model, so be sure to check with the retailer to ensure the workstation mat has the treatment.
7. Protect floor surfaces. Workers are not the only ones to benefit from workstation mats. Like other varieties of commercial mats, floor protection is a fundamental benefit provided by workstation matting. Without mats, floor surfaces are directly exposed to damage from liquid spills, chemical abrasion, moving machinery, and falling objects. Various matting thicknesses are available to provide basic-to-tough protection, depending on facility needs.
6. Reduce insurance premiums. In some cases, anti-fatigue workstation mats may reduce insurance premiums.
Retrofit Your Facilities Today
Retrofit your facility with workstation mats to improve safety, productivity, and workplace morale! For assistance in product selection, contact Eagle Mat Client Services at 1-877-333-1018.