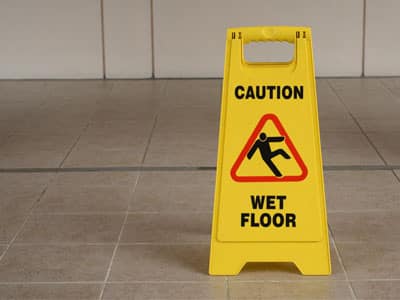 Gravity is a powerful and eternal force. It's what keeps our feet on the ground – at least until our feet come out from under us. When that happens, when a slip or trip and fall brings us suddenly and violently crashing to the ground, gravity and the impact we make with a hard, unforgiving surface can leave us with serious and sometimes lifelong injuries.
Unfortunately, debilitating falls happen every single day in workplaces across America. These falls costs workers tens of thousands of dollars in lost paychecks and increase healthcare costs for employers while reducing productivity and disrupting operations. That is why protecting workers from falls in the workplace is so critical for employees and employers alike.
A Quarter-Million Workplace Injuries Each Year From Slips, Trips, and Falls
Falls are the third-leading cause of unintentional injury-related deaths in the United States. The Centers for Disease Control and Prevention reports that:
Over 700,000 Americans are hospitalized each year because of a fall injury.
One out of five falls causes a severe injury.
Falls are the leading cause of traumatic brain injuries (TBI).
A large proportion of injury-causing falls happen in a work setting. According to the Bureau of Labor Statistics, 27 percent of the 888,220 nonfatal workplace injuries that resulted in days off the job in 2019 were related to slips, trips, and falls. That equals approximately 240,000 work-related fall injuries in one year.
Fifty-five percent of workplace slip and fall accidents resulted from poor walking surfaces caused by slippery conditions from contamination, splatter, fluid discharge, spillage of liquids, or leaking chemicals, lubricating oils, greases, and other substances.
Preventing Work-Related Slip and Fall Injuries Costs Far Less Than Paying For Them
Workplace slip, trip, and fall injuries cost American business owners billions of dollars every year. Employee falls cost businesses $11 billion in 2014 alone, according to the Liberty Mutual Workplace Safety Index. That is almost 20 percent of the $60 billion companies lost to all workplace accidents that year. Additionally, an employee injured in a slip and fall accident misses an average of 38 days of work, costing companies millions of dollars more in lost productivity and increased insurance premiums.
But reducing the chances of workplace slips and falls costs far, far less than that. Investing in commercial mats and floor coverings specifically designed to minimize such incidents can save your company money and keep your workforce firing on all cylinders.
Eagle Mat and Floor Products proudly offers the finest in commercial mats and floor covering products in the marketplace. Our products are designed to provide safety, durability, and functionality in all types of environments.
We sell and rent matting, safety flooring, and other products that help businesses deliver the highest quality of service and provide safety to clients, patrons, and employees alike. Contact us today at 1-877-333-1018 to speak with our knowledgeable sales team.