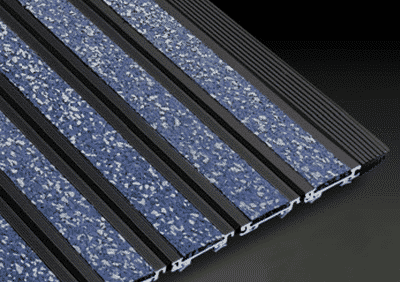 A recessed grill mat may sound like something you place under your Weber kettle in the backyard, but these specialized mats have nothing to do with a weekend BBQ. Instead, recessed grill mats – and their unique moisture and dirt-trapping qualities – keep a wide range of commercial buildings safe and clean.
Usually placed at the entrances and in the vestibules of large office or residential buildings, recessed grill mats feature horizontal slats or panels that effectively remove dirt and moisture from overhead traffic. Grill mats are distinct from other types of recessed floor mats, which are usually designed to fit into a preexisting recess built into the floor. Instead, recessed grill mats are surface-mounted and can be installed on top of any floor without requiring a recess.
That's because, as the name implies, the recess is already built into the mat, the top of which sits slightly elevated from the floor. Dirt and moisture fall into the grill and end up safely below the surface of the mat such that it can be cleaned up at the end of the day while keeping employees, residents, and visitors safe all day long.
At Eagle Mat, we offer several types of recessed grill mats suitable for any building and budget. Two of our highest-selling mats are:
The most popular choice for architects and Class-A buildings and vestibules, Pedimats® are the finest recessed mats on the market. They perfectly combine tough steel construction with attractive finishes and colors, and their soft-durometer cushions minimize noise by absorbing the vibrations of constant and heavy foot traffic. Eagle Mat's top-selling recessed entrance map, Pedimats® are available in six distinct rail finishes and an array of carpet, vinyl, and acrylic inserts and virtually limitless colors
PediTred® is a deep grid mat that can be rolled back for easy cleaning. The industry's strongest architectural grid, PediTred® offers 1000lb per wheel rolling load capabilities while he ¾" depth offers superior dirt collection storage. PediTred® mats have continuous vinyl cushions that allow for quick installation and operation, and the variety of insert and aluminum finish options offer owners an aesthetically pleasing product that will keep busy entrance areas clean and attractive.
Eagle Mat and Floor Products proudly offers the finest in commercial mats and floor covering products in the marketplace. All of our products are designed to provide safety, durability, and functionality in all types of environments.
Contact us today at 1-877-333-1018 to speak with a member of our knowledgeable sales team to learn more about how Eagle Mat can assist you with your crowd control needs.