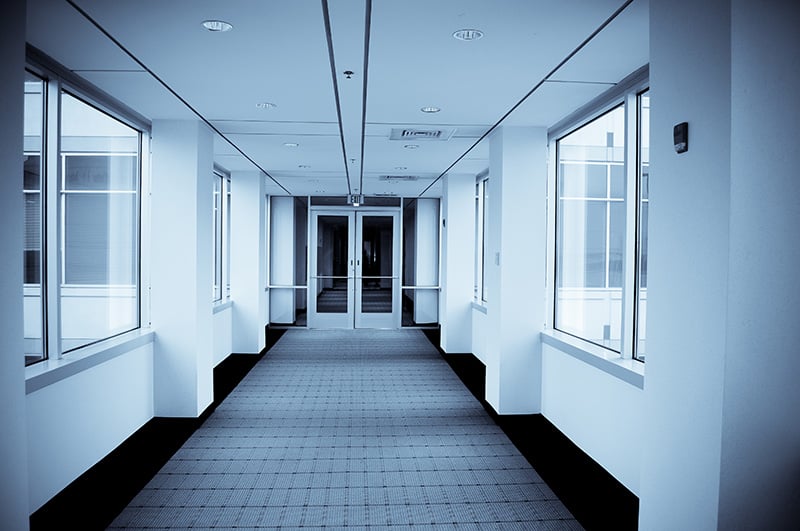 As the world slowly emerges from the ravages of the coronavirus pandemic, millions of workers are changing out of their sweatpants, leaving their zoom calls behind, and returning to their workplaces. But the work environment they go back to may not look the same as it did when businesses closed their doors back in the spring of 2020.
Just as with so many other aspects of our lives, COVID-19 has changed how interior designers, architects, and business owners approach the use of space in the workplace. An increased focus on effective ventilation and air filtration, the need for social distancing, and other changes required to keep workers healthy and comfortable are leading to reimaginings of what an office can and should be.
Open Floor Plans
While many office workers have strong feelings about the lack of privacy or reduced productivity often associated with open floor plans, the wide-open spaces of such layouts provide many hygienic benefits. They are easier to clean, and the lack of doors, handles, cubicle openings, and other objects minimize the number of surface areas touched by employees throughout the day. Additionally, open floor plans that allow for open windows and cross-ventilation improve indoor air quality and can reduce the circulation of COVID-19 and other pathogens.
Socially-Distanced Workstation Layouts
It's hard to believe now, but social distancing wasn't even a concept before the pandemic. Now, it is becoming an important design element for offices. This includes creating more space between workstations, which can involve smaller desks that allow for more room between each workstation or, conversely, larger desks that provide more space between neighboring workers.
Additionally, as we see in so many retail environments, plexiglass barriers between workstations can also serve to improve employee health and comfort, especially when keeping six feet between individuals is a challenge.
Touchless Technology
"Touchless" became as much of a pandemic buzzword as social distancing, and minimizing the number of surfaces that workers need to come into contact with is driving changes to building technology and infrastructures. This includes such innovations and upgrades as motion lights and motion sensors that turn on lights or faucets when entering a room or approaching a sink, motion-sensor doors that open automatically, and elevator or HVAC systems that a smartphone app can control.
Anti-Microbial Floor Mats
High-traffic areas can become a highway where all kinds of contaminants, including viruses like COVID-19, can make their way into the workplace. Bacteria and other pollutants also travel well and can render other sanitizing efforts much less effective.
That is why many facilities are investing in floor mats that are specially designed to trap contaminants before they can pollute a sterile environment. These "sticky mats" trap impurities, dirt, and debris on the mat's tacky surface.
At Eagle Mat and Floor Products, we carry several sterilized clean mats containing anti-microbial technology that helps kill bacteria. For example, our Micro Guard matting is treated with AEGIS Microbe Shield technology to guard against degradation from microorganisms, reducing pollutants, bacteria, and odor emissions in entryways and other high traffic areas. Our online store also features many matting options from manufacturers like Waterhog, Pur-Comfort, and PermaTrack. 
Contact us today at 1-877-333-1018 to speak with a member of our knowledgeable sales team.