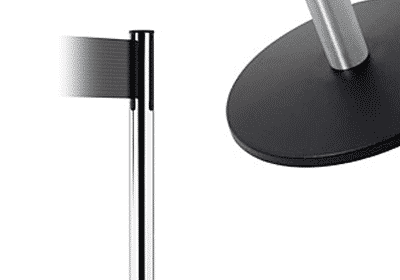 Nobody enjoys waiting in line. But if a store, business, or event is wildly popular, the crowds will come and lines will form. While business owners may pat themselves on the back for drawing the masses to their doorstep, things can quickly turn ugly if they don't have the plans and equipment needed to keep the wait as short as possible and maintain an orderly and organized queue.
Managing your lines logically, safely, and efficiently can make for a better customer experience and reduce the likelihood that visitors will wait things out rather than walk away frustrated and disappointed at your lack of planning. And for effective crowd control and swiftly moving lines, that planning should include stanchion posts, stanchion ropes, and the signage that can inform folks about where they need to be.
At Eagle Mat and Floor Products, we offer a wide range of stanchion posts, stanchion ropes, customizable rope ends, and matching signage brackets that make crowd control easy and cost-effective.
As the world reopens and patrons return to stores, restaurants, concerts, games, and other events after 14 months of pandemic lockdowns and quarantines, here is a short buyers guide to the crowd control stanchions that can help you welcome them back:
Traditional Stanchion Posts
Stanchions can be easily used in many different environments – indoors or outdoors, large spaces and small ones, shops and businesses, or big events and gatherings. Whether using ropes or retractable belts, stanchions can be adjusted, moved, arranged, repurposed, customized, or stored with ease.
You can choose from several different models of stanchion posts, including:
Classic Post Stanchion – Universal Base. Our best-selling post stanchion offers a more relaxed, subtle feel, and the universal 4-way loop system allows any type of rope to connect to the post for multi-directional usage. Its forged construction is built tough to withstand the metal-to-metal grinding of rope snap-ends.
Classic Post Stanchion – Sport Base. The Sport Base features an ultra-low profile made of turned steel, which sits flat on the floor surface.
Spherical Post Stanchion – Universal Base. Available in a wide range of colors, our more stylish stanchion features an elegant ball top and is equipped with the universal 4-way loop system.
All of our traditional stanchions are compatible with the stylish, durable velour ropes and twisted ropes that connect posts and keep lines orderly and clearly defined
Tensabarrier Stanchions and Retractable Belts
At Eagle Mat, we also sell Tensabarrier retractable belts and stanchion posts that offer unmatched ease and adaptability while minimizing the risk of injury for patrons if and when a belt unexpectedly retracts.
Using retractable stanchions offers many advantages and benefits, the most significant of which is lowering wait times by creating organized lineups. In turn, shorter wait times mean more customers coming through your doors and more dollars in your pocket.
In addition to selling the best in crowd control equipment, Eagle Mat and Floor Products proudly offers the finest in commercial mats and floor covering products in the marketplace. All of our products are designed to provide safety, durability, and functionality in all types of environments.
Contact us today at 1-877-333-1018 to speak with a member of our knowledgeable sales team to learn more about how Eagle Mat can assist you with your crowd control needs.