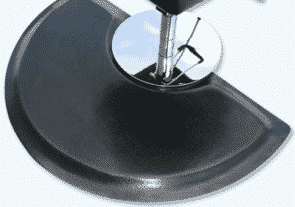 Do you have floor mats in your salon? Salon mats keep beauty professionals comfortable. Once comfortable, stylists are free to focus on delivering high quality services. Eagle Mat's selection of salon floor mats is perfect for hair salons, spas, and beauty schools. Our selection represents an exquisite range of salon mats that feature both anti-fatigue and anti-static benefits.
These mats stimulate blood flow through the lower body and torso to provide longstanding comfort that is simply unbeatable. You thought it couldn't get any better? Well guess what, the anti-static properties of our hair salon mats make cleanup a breeze! Hair does not stick to our anti-static salon mats. Our product line is available in a variety of different textures, colors, and sizes! Accent your salon or spa with one of our salon mats, today! 
Vegas Salon Mats are specifically designed to withstand sharp pressure of high-heels and spikes.  High-Heel Proof Salon Mats are manufactured with a double thick; nylon reinforced polymeric vinyl for maximum resistance to punctures.  The Vegas' extra thick top surface protects, while maintaining a soft and pliant sensitivity underneath your feet.
Reflex Salon Mats are revolutionary in the industry, providing dual action support in both the polymeric sponge base and raised dome surface, proven to stimulate blood flow and reduce muscular stress.  This stylish salon mat possesses superior anti-fatigue characteristics, great for easing tension from the feet, ankles, and calf muscles, all the way up to the back, neck, and shoulders.
Diamond Plate Salon Mats provide the comfort necessary to boost your performance while the raised diamond ridges add extra traction and safety from punctures of sharp objects. The modern Diamond Plate design compliments the d'cor of any metallic or high-tech boutique. These nouveau-sheik salon mats are stylish and built to last!
Do you have other questions? It's easy to contact us, and we're happy to help you. You can always call us at (877) 333-1018 or email us for more information or if you aren't sure what you need.