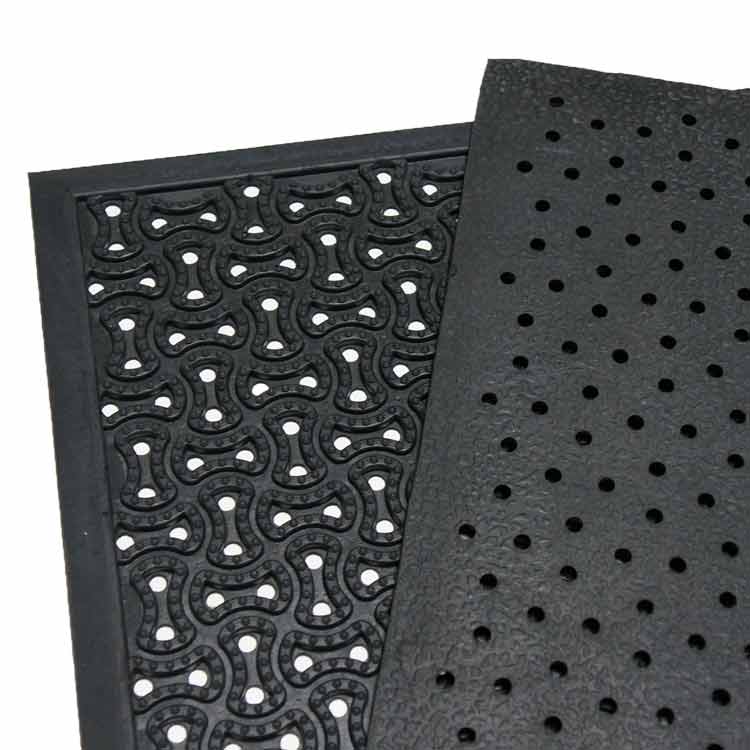 Customers love our rubber products because they are skid-resistant and easy to clean. These are effective in containing dirt and debris before it gets tracked into a facility. Facilities that use rubber mats keep their entryways clean and safe.
Rubber runner mats provide the same benefits. However, these elongated mats cover more floor space. This makes rubber runners perfect for use in kitchens and behind liquor bars. Many of our rubber mats also feature holes to facilitate water drainage. Our models include those made of 100% Nitrile rubber as well as Eco-friendly rubber mats made of up to 95% post-consumer tires. Keep reading to learn more about our Rubber Floor Matting collection.
Recycled Rubber Tire Tiles are constructed of 100% recycled truck and airplane rubber tires.  One of our strongest and most eco-friendly rubber products!
Comes 3/8″ thick.
Made of 100% recycled rubber!
Ideal for moderate to heavy foot traffic.
Our Rubber Scraper Mat features a 100% Nitrile rubber construction that is made to last!  Raised rubber cleats effectively clean foot traffic while trapping debris below the mat's surface.
Rubber Pronged Entrance Mats feature thousands of dense co-polymer rubber scraping fingers that effectively removed pounds of dirt from sight and hold it underneath the walking surface.
Rubber Drainage Mats feature a resilient multi-directional surface that effectively cleans away dirt and grime.  Surface is elevated and features large holes for easy drainage!
Meets all ADA requirements.
Made of 100% heavy-duty Nitrile rubber.
Anti-slip skid resistance for added safety.
There are many reasons to use rubber mats outside the entryway to your store, apartment building, or other commercial property. Rubber mats are extremely versatile! These special floor mats are most common in commercial entryways, restaurants, and fitness facilities. Rubber floor mats are also popular in residential settings.
Don't let incoming dirt, moisture, and debris cause potential health and safety risks in your facility. Visit our Rubber Matting online store to shop industry leading floor mats.
Do you have other questions? It's easy to contact us, and we're happy to help you. You can always call us at (877) 333-1018 or email us for more information or if you aren't sure what you need.