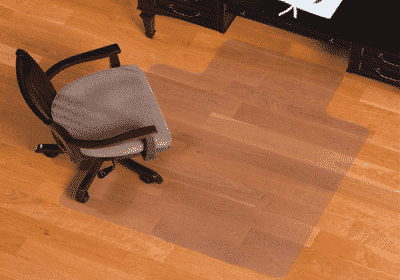 Whether you work at a desk in an office building or your home is your office building, you spend a lot of time in your chair. And that chair spends all of its time on your floor or carpet. Without any protection, your flooring will quickly feel the effects of your time in your chair, with scratches, scuffs, tears, or other damage that could cost you a lot of money to repair or replace. If you run an office with tens or hundreds of desks and desk chairs, that can get very expensive very quickly
That is why chair mats are a must for any workplace. Chair matting protects carpet and hardwood surfaces from damage. Since the chair mats we offer at Eagle Mat are clear, they also won't hide the appearance of the beautiful flooring they are designed to protect.
Not only can chair mats protect your office interior, but they can also help workers be more comfortable and productive. Chair mats decrease friction on a rough surface like carpet, so the person sitting in the chair can move freely from task to task. Not having a chair mat on a rough floor is guaranteed to give your employee a backache and will be a constant source of frustration as the employee tries to slide the chair against the friction.
How To Choose The Right Chair Mat
When considering chair mats, the first thing to consider is the type of flooring that the chair will be rolling around on. Chair mats come in designs for two main types of flooring: carpeted and uncarpeted. They also come in various sizes to accommodate different size workspaces that may require more room for moving around.
Our chair mats for carpet are made from the highest quality plastic, all manufactured in the United States, and feature the patented AnchorBar cleat system, which securely holds the mat in place without damaging the carpet. Guaranteed not to crack or curl from normal wear and tear, our carpet chair mats come in a wide range of sizes and shapes as well as different levels of thickness, including Economy, Value, Intermediate, Standard, Deluxe, and Premium.
Out chair mats for hardwood floors and other non-carpeted surfaces lay flat and feature a smooth backing made to stay put and stand firm on all hard surface floors.
The mat will protect your flooring from scratches and long-term wear and tear from your chair's casters. These clear, high-quality desk chairmats are perfect for all hard surface flooring, including hardwood, vinyl, tile, marble, and terrazzo.
Eagle Mat and Floor Products proudly offers the finest in commercial mats and floor covering products in the marketplace, including chair mats. All of our products are designed to provide safety, durability, and functionality in all types of environments.
Contact us today at 1-877-333-1018 to speak with a member of our knowledgeable sales team.