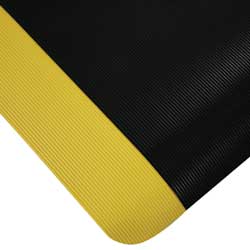 Anti-fatigue mats offer businesses a sensible solution that increases both employee morale and productivity.
Did you know that fatigue is the leading cause of lost productivity in the workplace? On average, employees report 4.1 hours of lost productive time each week due to stressed, sore and tired feelings, costing employers an estimated $136 billion annually, according to a study in the Journal of Occupational and Environmental Medicine. 
Service-based businesses rely on employees to deliver goods and services of exceptional quality. These businesses invest heavily in soft floor and anti-fatigue floor mats. These products keep employee areas clean, dry, and comfortable throughout long business hours. Businesses understand that employees stand for long hours may suffer from foot, leg, and lower back pain. Such pain increases fatigue and may severely reduce employee performance.
Our collection of anti-fatigue floor mats includes bestselling brands like Marble Top and Hog Heaven. The selection of anti-fatigue mats on Eaglemat.com is sure to help your business find the ideal solution that will keep your employees smiling!
Marble Top Mats are one of our most popular anti-fatigue mats and a longtime favorite of commercial facilities, banks, postal facilities, and the like. Aches and pains from long-standing hours are drastically reduced with Marble Top's higher level of comfort and softness. Marble Top Mats have upgraded to a Nitricell sponge base for superior comfort. This matting option is now available with Anti-Microbial Technology for the elimination of microorganisms and chemical resistance.
The SMART Top Anti-Fatigue Mat is the Eco-Friendly answer to our best-selling Marble Top Anti-Fatigue Mat. SMART solution to standing worker fatigue, this mat is economically priced and Green. Priced like a sponge mat yet lasts up to five times longer. Compare to other marbleized anti-fatigue mats and reap the savings! Resilient sponge base is called Rebound and is composed entirely of a 100% recycled urethane composite. Comfortable and functional in dry industrial applications.
Benefits of Anti-Fatigue Mats in the Workplace:
Reducing slip and fall accidents
Improving productivity
Reducing back pain and body stress
Preventing injury and fatigue
Anti-fatigue mats are designed in such a way that they force your standing body to constantly adjust and distribute the weight. The mats come with a cushiony membrane that offers buoyancy to a standing person. Your feet will be forced to constantly shift and adjust thereby preventing numbing problems, concentrated muscle stress and strain, and enhancing blood circulation. As such, anti-fatigue floor mats prevent your feet and legs from swelling and aching after long standing hours.
Do you have other questions? It's easy to contact us, and we're happy to help you. You can always call us at (877) 333-1018 or email us at sales@eaglemat.com for more information or if you aren't sure what you need.