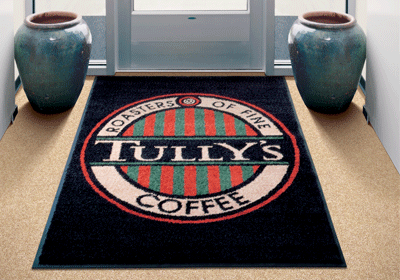 Behind every successful business is a clear brand identity. Brand awareness is becoming more important in a globalized and changeable marketplace. To achieve this, you need to communicate your brand effectively at every possible opportunity. Conveying your marque in the best light at every touch point is vital to creating and sustaining a positive brand image.
Logo mats allow you to present your company's brand logo and/or key messaging at that crucial point when visitors cross the threshold to your business. It is all about first impressions!
Logo floor mats are the perfect addition to any lobby or reception area. Our custom floor mats are printed with leading-edge digital printers. This ensures crisp designs that are both functional and aesthetically pleasing. Greet your visitors with personalized floor matting products using a near-limitless array of vibrant colors and textual effects. Logo mat printing effects include fading, shading, and 3-D imaging! Create a custom logo mat and make a lasting impression with your clientele.
Be sure to browse our collection of Hog Heaven mats, an industry leader in high quality indoor/outdoor matting. Or you can build a custom Waterhog Mat and receive laser-cut precision with Waterhog's patented in-lay printing technology.
Berber Supreme Recessed Logo Mat
Berber Supreme Recessed Logo Mats are the #1 choice for high traffic entryways that need a little brand-power. Proudly feature your company logo, slogan, or important safety messaging on enduring Berber carpeting. Display your company logo, name, slogan, or important safety message without sacrificing traction or cleaning ability. No other material provides more aggressive dirt, debris, and moisture control. New design enables installation within a recess in the floor, allowing this logo mat to lie flush and maintain a safe, even walkway.
Rubber Scraper Mats are made of 100% Nitrile rubber for long-lasting durability and superior slip resistance, even when wet! Logo mat images are scratch resistant, and heat pressed onto the mats surface.
Textured rubber cleats aggressively scrape off dirt and grime from shoes as well as offer superior slip resistance.
Anti-static Nitrile rubber will not crack or curl.
Great for both indoor and outdoor use.
Clean yourself by shaking or hosing down or ask us about our laundering service!
Supreme Carpet Logo Mats are the highest-grade premium carpet-surface logo mats in the industry. Manufactured using computerized MasterWeave™ tufted technology and Perma-Dye™ dying technology, this superior carpet logo mat ensures longest lasting vibrant colors with the thickest density nylon yarn and High Definition (HD) like quality.
Do you have other questions? It's easy to contact us, and we're happy to help you. You can always call us at (877) 333-1018 or email us at sales@eaglemat.com for more information or if you aren't sure what you need.