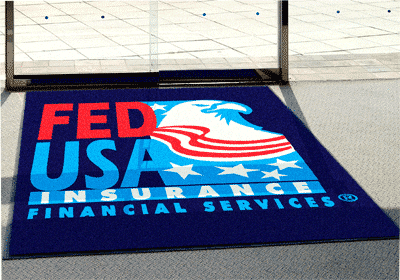 Customized logo floor mats are the perfect addition to any business! Create a custom logo mat and make a lasting impression with your clientele. Our custom floor mats are printed with leading-edge digital printers. This ensures crisp designs that are both functional and aesthetically pleasing. Greet your visitors with personalized floor matting products using a near-limitless array of vibrant colors and textual effects. Logo mat printing effects include fading, shading, and 3-D imaging!
A logo mat is a great way to help push the branding of your business to a new level. These mats are best placed in high-traffic areas where customers will constantly see. This is your opportunity, as a business owner, to get customers to remember your brand on the way in and out of the building. The more impressions you can make, the likelihood of your customers coming back are higher. Here are the best areas to add custom floor mats for your business.
Entrance
Entrance mats are essential additions to any facility. Choose a mat that remove dirt from the bottoms of shoes and trap water, preventing water from being tracked everywhere. This entrance mat should be welcoming and positioned where customers will enter and leave the building. Including a customized business logo will increase the chances of customers returning.
Lobby
Lobbies make a grand first impression for your business, making it the best place for your customized logo mat. The quality and graphics of your customized mat makes a big impact on the response from your customers. Graphic Impression Logo Mats are heavy-duty floor mats manufactured using a state-of-the-art digital printer. Limitless color combinations are available no matter how complex the design. Computer-controlled dyes provide the sharpest detail for any image.
Restrooms
Bathroom mats keep restroom facilities clean, safe, and odor-free. Investing in restroom mats shows patrons that you value their comfort, health, and safety in the most intimate of spaces. Our restroom matting products are designed with hygiene in mind. They keep facilities clean by absorbing water and killing bacteria. 
Be sure to browse our collection of Hog Heaven mats, an industry leader in high quality indoor/outdoor matting. Or you can build a custom Waterhog Mat and receive laser-cut precision with Waterhog's patented in-lay printing technology. As always, Eagle Mat offers free image upload and proofing with each order!
Do you have other questions? It's easy to contact us, and we're happy to help you. You can always call us at (877) 333-1018 or email us at sales@eaglemat.com for more information or if you aren't sure what you need.