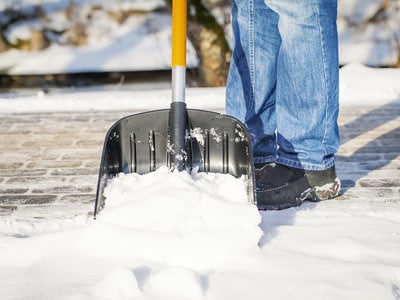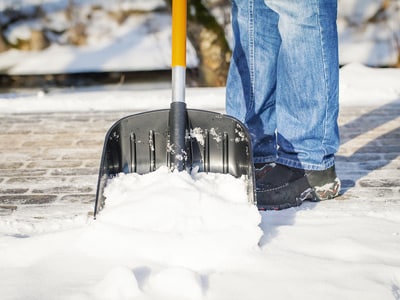 Is your business liable for that icy storefront sidewalk?
Despite fluctuating temperatures, most businesses throughout the northeast and Midwest United States must battle snow, sleet, and ice accumulation. Winter precipitation reduces friction, creating a slip-and-fall nightmare even when temperatures hover above freezing. Not surprisingly, snow and ice management are top priorities for nearly every property owner and facility manager (if they aren't, it's time to re-evaluate winter safety priorities).
One of the biggest reasons business owners practice snow management is to prevent slips, falls, injury, and the potential liability that may arise as a result of an accident. Without question, owners must take care to prevent slips and falls at entryways and within their stores. But who is liable for sidewalks and parking lots?
Disclaimer: This article is not meant to provide legal advice. Always consult a licensed attorney as well as state and local laws to better understand property liability in your area.
Who is Liable for Icy Sidewalks?
Generally, sidewalks are considered part of the commercial property. As such, the owner of the property is usually charged with keeping sidewalks reasonably safe for pedestrians. By law, property owners are usually required to take action within a reasonable time period after learning that conditions may become unsafe. With this in mind, it is wise to prioritize sidewalk maintenance in the following situations:
The morning after a widely publicized snowstorm strikes.
Mid-morning, after an early snowstorm, covers sidewalks that were previously cleared.
In the afternoon, when snowfall or sleet make it dangerous to traverse sidewalks throughout the remainder of the business day.
Immediately upon hearing reports from customers, employees, and other property visitors that sidewalks are covered, slippery, or otherwise dangerous (even if snowfall has not occurred).
Who is Liable for Icy Parking Lots?
Like sidewalks, parking lots become a dangerous place when winter weather strikes. Unlike sidewalks, however, it is not always clear who is responsible for maintaining safe conditions.
As a general rule of thumb, the responsibility belongs to whoever owns the property on which the lot resides. And while parking lots can be owned by the proprietor who runs the storefront, they might also be owned by the city or local municipality.
Regardless of who owns the lot, it must be cleared and kept reasonably safe for both vehicles and pedestrians. Failure to maintain a clear and reasonably safe parking lot may result in liability for any accident that occurs due to negligence. Common examples include:
Excessive snow, sleet, or ice accumulation that leads to vehicular slides, as well as pedestrian slips and falls.
Failure to remove snow and ice from walkways and stairs that conjoin separate parking sections.
Improper/excessive use of sidewalk salt that leads to a slip and fall.
Winter Safety Products and Consultation
With more than 30 years of experience, Eagle Mat proudly represents the finest in safety flooring, commercial floor mats, and other facility safety equipment. Our customer service team is available to help your organization create a safety-matting program that will keep facilities clean, dry, and safe throughout the winter.
For consultation and product specifications, readers are invited to contact our team online or call toll free 877-333-1018.