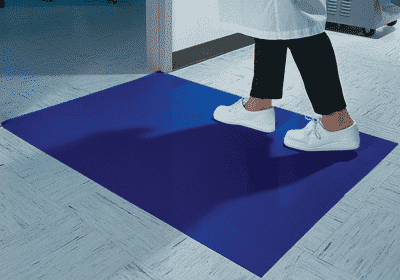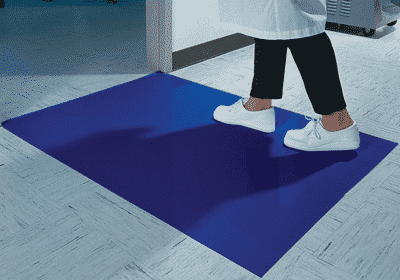 Germs and bacteria can spread across floors rapidly, especially in environments where multiple individuals enter and exit on a regular basis. Although you can't ask employees and customers to remove their shoes upon entry, you can minimize the spread of germs across the floor by installing high-grade floor mats in entryways and lobbies. Aside from keeping floors dry, incorporating sticky mats or floor mats with fibers to scrub soles as shoes make contact diminishes the number of germs present in both offices and retail shops.
Consider the following antimicrobial mats to keep floors at a workspace, retail shop or restaurant germ-free.
Clean Room Mats
In order to keep an environment sterile, facility staff and/or shop owners can install sticky mats to trap bacteria. Many hospital, labs and food service businesses incorporate these mats in compliance with high regulations. Clean Room Sticky Mats have a tacky surface to grab bacteria from shoes. These mats come in 1/8-inch thickness and either white or blue colors. Simply install on the ground, peel and discard used sheets. Each mat includes four cases of 30 sheets for a total of 120 disposable, sticky surfaces.
Additionally, the Waterhog Clean Room Sticky Mat features Waterhog's dirt-scrubbing nub pattern and a premium sticky mat side-by-side. In just two steps, 90 percent of dirt is removed from shoes. The sticky pad includes 60 sheets, and is replaceable once all sheets are used.
The Pur-Comfort Anti-Fatigue Clean Room mats complete sterile workplaces where standing for long periods of time is required. These mats contain 100 percent of premium molded urethane and minimize fatigue when provided to workers who primarily stand on the job.
Finally, the Sterilized Anti-Fatigue Clean Room Mat is the optimal choice for hospitals, pharmacies and other sterile environments. The solid, non-porous surface can endure heavy sterilization. These mats are USP 797 CSP Risk Level compliant.
Micro Guard
The Micro Guard mat uses AEGIS Microbe shield technology within each carpet fiber, allowing elimination of both bacteria and odors. Plus, they include 100 percent Nitrile rubber backing to keep them in place. Micro Guard mats are also certified high traction by the National Floor Safety Institute. They come in three colors, including blue marble, grey marble and maroon marble for an aesthetically-pleasing look to match existing interiors.
PermaTack Permanent Sticky Mat
In just three steps, the PermaTack Permanent Sticky mat removes 100 percent of contaminants, including dirt and debris particles from shoes and wheels. These mats are used most often in labs and offices, but complement many office and retail space floor and bacteria-eliminating practices.
Before allowing dirt, germs and bacteria flood an environment and potentially harm employees or patrons, be proactive with a trustworthy and effective antimicrobial mat. For more information on pricing and purchasing, contact Eagle Mat at (877) 333-1018 where our customer service team can assist you with availability and installation.