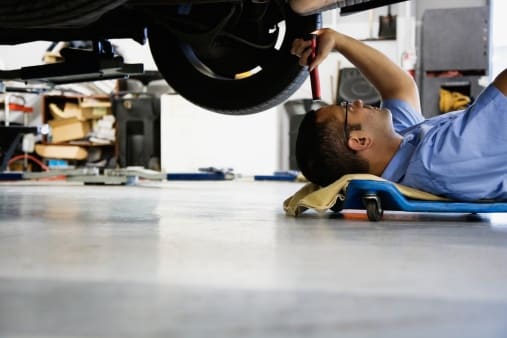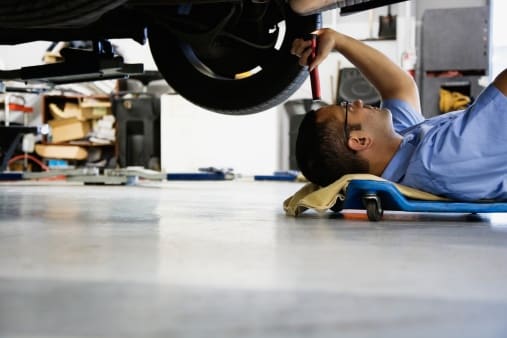 When people hear the word "garage" they often picture a dreary, oil-stained warehouse with landmines of puddles and power tools scattered about. But that's not you, right? You're either a car enthusiast or a business owner with a clear vision of what a garage SHOULD look like. It should be clean, organized, and most importantly, safe.
The key to accomplishing this can actually be found right where you stand…the floor! The floor of a garage must be able to endure heavy wear-and-tear from vehicles to machinery and everything in between. In this day in age concrete just isn't enough. Investing in quality flooring options will not only create a better look, but a safer and more productive environment as well.
So, which are the best garage floor mats? There are many types to choose from and the answer will depend not only on style, but what they are needed for and what kind of installation process the buyer would prefer.
Peel & Stick flooring is exactly what it sounds like and very easy to install. This option comes in tile pieces that are self-adhering and can be individually put into place directly to the floor. The surface can have different textures such as diamond tread or levant which both have great traction and slip resistance.
Roll-out flooring comes in a large roll instead of square tiles and can be spread across the room from wall to wall. It can also be easily cut to fit the shape of the garage. This option also comes in various textures including a ribbed or coined pattern as well as a clear in order to keep the look of the flooring underneath. It isn't necessary to use an adhesive but you can add it underneath for a more fixed fit. This type of flooring is very durable with a non-porous surface that provides great protection against spills and stains.
Interlocking flooring consists of non-adhesive pieces with edges that fit together like a puzzle. This option can be in the form of solid tiles or ones that have a drainage pattern allowing liquids and small debris to pass through to the ground that lies beneath it. Since this is a much thicker layer of flooring, it is very durable and protective.
Individual mats can be created and customized by simply using less of any of the aforementioned flooring materials to cover the exact size of your space, but there are also smaller options to choose from. For example, there are motorcycle mats that come in a pre-determined size of 50 square feet. This is an ideal workspace area for bike maintenance but it can also be used for any type of workstation that fits within these dimensions.
Anti-fatigue mats can be a great addition to any flooring for workers that are on their feet all day. The soft yet supportive consistency of these mats are meant to keep employees comfortable and productive while they work for long periods of time. Using these mats will also protect them from long-term injuries such as joint or back pain.
For further safety precautions, you may also want to consider anti-static mats which are non-conductive and will protect workers from accidents involving high voltage machinery. What are the Best Garage Floor Mats? To learn more about quality garage flooring options, call Eagle Mat's friendly customer representatives at 877-333-1018.