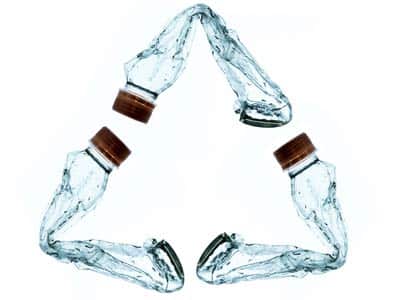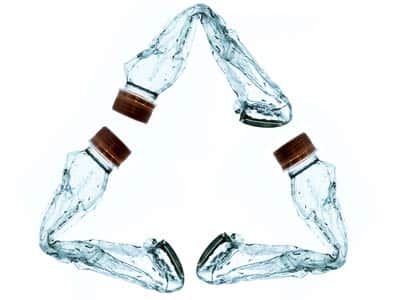 Polyethylene terephthalate (PET) is the most commonly used material in polyester products, including clothing fibers, liquid containers, glass fibers, and thermoforming for manufacturing. Although a mass-produced component of everyday materials used by consumers, PET is difficult to recycle into food and beverage containers because it is somewhat porous and the heat required to eliminate residual molecules would destroy the plastic. But, PET plastic bottles can be used to create other products, including commercial-grade carpets.
To help with the recycling of PET products, Eagle Mat is pleased to offer a full line of durable commercial matting products that utilize 100% recycled PET drinking bottles. Here are some of our top, commercial-grade products we manufacture via PET recycling processes.
Waterhog ECO Premier
The Waterhog ECO Premier mat is made of polypropylene fibers made from 100 percent recycled PET drinking bottles. The rubber backing used to secure the Waterhog ECO Premier onto surfaces and prevent slipping is made of 20 percent recycled tires, making this a highly sustainable and eco-smart option for businesses. You can use the Waterhog ECO Premier both inside and outside, as the raised ridges in a diamond pattern hold dirt and moisture below the surface. The border is made to hold dirt and moisture as well, further preventing messes outside the limit of the carpet's dimensions. To celebrate this certified Green Product, we've featured a "green" recycling symbol onto the fabric pattern of the surface, so all visitors and employees can recognize your dedication toward green solutions.
Waterhog ECO Elite
Much like the Waterhog ECO Premier, the Waterhog ECO Elite uses the same recycled products in its manufacturing process. The surface is herringbone, allowing extra hold for dirt and moisture. And, the raised design is crush-resistant, so you don't have to worry about compromised performance over time. This is a great option for high traffic areas, as the intricate design can fully trap elements that lead to slip and fall incidences throughout businesses and retail shops.
Waterhog ECO Grand Premier Half-Oval
Want to go green but concerned about keeping your floor mats aesthetically pleasing? The Waterhog ECO Grand Premier comes in a half oval shape, allowing for a savvier look without compromising LEED certification. The ECO Grand Premier has the same power and conscious manufacturing components as our other Waterhog ECO mats, with the recycling symbol woven into the surface to impress all clientele while keeping floors safe and dry.
Rubber Scraper ECO Mat
For more rigorous cleaning, consider Eagle Mat's Rubber Scraper ECO Mats, which feature an elaborate surface design that scrapes dirt and grime from the bottom of shoes efficiently. The Rubber Scraper ECO Mat is made from 95 percent post-consumer recycled tires, and its heavy weight prevents slipping – even in inclement weather. These can be placed both indoors and outdoors, horizontally or vertically, depending on your facility's layout and existing mat placement.
Do you want your business to be outfitted with the proper safety mats, while minimizing consumer waste and contributing to a greater green initiative? Consider one or a combination of the aforementioned eco-friendly mats for your office or facility space. For more information on PET recycling and facility safety mats, call Eagle Mat at (877) 333-1018 to speak with a representative and discuss your sustainable floor matting options.