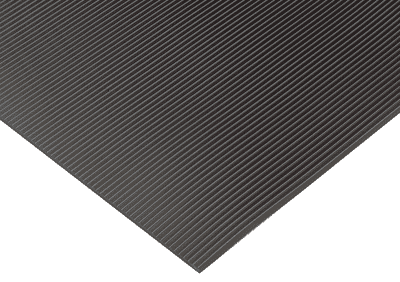 Rare is the business that doesn't run on electricity. But in many industries, the amount of power and voltage they use, the type of work done, and the nature of the machinery and equipment involved significantly increase the risk of electrocution for employees and others. Additionally, static electricity can cause significant damage to electronics and other equipment that can quickly disrupt or halt their operations. Fortunately, specially designed commercial and industrial floor mats that are non-conductive and dissipate static electricity can protect people and machinery alike.
Electrocution Injuries Are Common and Often Fatal
A person can be electrocuted when they contact an electrical source, causing an electric current to pass through their body. Since the human body is an excellent conductor of electricity, electricity's harm can go far beyond the point of contact, burning the skin and damaging internal organs.
A recent report on electrocution injuries found that:
Approximately 1,000 Americans die each year from electrical injuries in the United States.
Around 400 of these fatalities result from high-voltage electrical injuries, while lightning causes 50 to 300 deaths each year.
In addition to deaths, at least 30,000 injury-causing shock incidents occur each year, representing approximately 5 percent of all burn unit admissions in the United States.
Approximately 20 percent of all electrocution injuries occur in children.
Most electrocution injuries in adults occur in occupational settings and are the fourth-leading cause of workplace-related traumatic death
How Non-Conductive/Anti-Static Mats Can Reduce Electrocution Risks
Eagle Mat's non-conductive and anti-static mats remove the static electricity from individuals before they touch sensitive items. They absorb the static charge from bodies and thus prevent static shock from occurring. They also help keep the body from building up more static electricity, making it safer for employees to work with sensitive electronic equipment or flammable materials.
Our selection of sleek Static Dissipative Mats (Conductive Mats) protects sensitive technology, machinery, and equipment by removing static electricity from a person as soon as possible before touching sensitive items, such as computers, manufacturing devices, or explosive chemicals.
Eagle Mat's non-conductive switchboard mats can absorb over 30,000 volts of electricity by creating a barrier between employees and the ground that reduces the risk of electrical shocks.
Non-conductive and anti-static mats are simple, effective, and inexpensive ways to protect employees and equipment from the damage that static electricity can cause. At Eagle Mat and Floor Products, we proudly offer the finest commercial mats and floor covering products in the marketplace. Our products are designed to provide safety, durability, and functionality in all types of environments.
Contact us today at 1-877-333-1018 to speak with a member of our knowledgeable sales team.