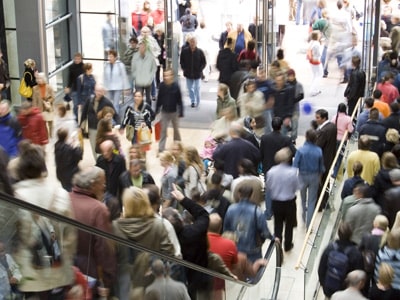 If you have crowds or lines forming outside or inside your store or facility, you must be doing something right. While having large numbers of people waiting to patronize or visit your business is undoubtedly a good thing, it can quickly become an ugly, uncomfortable, and off-putting experience for those folks if their wait is a disorganized, confusing mess.
That is why controlling crowds with the right equipment is so important. Managing your queue logically, safely, and efficiently can increase customer satisfaction and reduce the odds that those customers will walk away disappointed and frustrated with your lack of organization.
At Eagle Mat and Floor Products, we offer a wide range of stanchion posts, stanchion ropes, customizable rope ends, and matching signage brackets that make crowd control easy and cost-effective. We also sell Tensabarrier retractable belts and stanchion posts that offer unmatched ease and adaptability while minimizing the risk of injury for patrons if and when a belt unexpectedly retracts.
Using retractable stanchions offers many advantages and benefits, the most significant of which is lowering wait times by creating organized lineups. In turn, shorter wait times mean more customers coming through your doors and more revenue in your pockets.
Stanchions can be easily used in many different environments – indoors or outdoors, large spaces and small ones, shops and businesses, or big events and gatherings. Whether using ropes or retractable belts, stanchions can be adjusted, moved, arranged, repurposed, customized, or stored with ease.
But the organization provided by stanchions, ropes, and belts can be undermined if patrons are uncertain about where they should be, what a line is for, or where it starts. That is why clear, visible signage in and around your queue is essential.
The sign frames and brackets we offer can be easily attached to stanchion posts to facilitate clear customer communication and reduce the chances of confusion or misunderstanding.
In addition to selling the best in crowd control equipment, Eagle Mat and Floor Products proudly offers the finest in commercial mats and floor covering products in the marketplace. All of our products are designed to provide safety, durability, and functionality in all types of environments.
Contact us today at 1-877-333-1018 to speak with a member of our knowledgeable sales team.