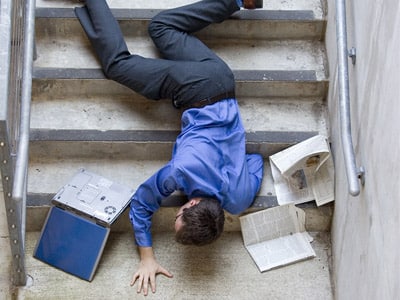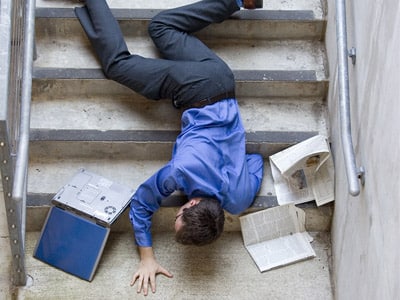 Santa Claus is coming to town. And along with his gifts and his sleigh, expect tons of ice, sleet, snow, slush, and freezing rain. Believe it or not, in 2014, according to the Bureau of Labor Statistics in the US, there were "42,480 workplace injuries and illnesses involving ice, sleet or snow that required at least one day away from work to recuperate."
So, to help you avoid becoming a statistic for December 2018, we're going to give you some hints on how to be safer this winter at your office or business.
Get some mats for inside and/or outside entrances and exits. Especially, look at the mats that are designed for absorption of water, like

Waterhog

mats. And if you want to stick with a holiday décor, you can get them in red and green.
Get some anti-fatigue mats. If your business is busier this time of year, now is the time to get your employees some

anti-fatigue mats

. Fatigue in the

workplace is real

and a real hazard. People who are tired are more prone to accidents, and anti-fatigue mats make employees who are on their feet for long hours feel better and have fewer aches and pains.
Encourage employees to wear comfortable clothing and slip-resistant shoes. We're not kidding. If your company has a holiday rush, then your employees will be more tired than usual (see #2). Even if you have a strict dress code, make some allowances for the worst weather of the year. A woman balancing on high heels doesn't have a chance on a slippery floor, and a man with a necktie that's too tight is going to be distracted when he should be watching where he's walking.
Avoid clutter. Clutter is a major risk factor for falls in the workplace. So, if your business has lots of packages or merchandise coming in or out this time of year, take some precautions. Make sure boxes are stacked away from and out of the flow of traffic. Holiday decorations are great, but don't let them get in the way of employees or customers.
Cover any electrical cords on the floor. If you're using any kind of decorations or lights that require some electrical cords to snake on the floor, then cover them with mats.

Contact us

if you don't know what kinds of mats are best suited for this purpose.
Have maintenance people on their toes. Make sure there is no melting snow or water pooling on floors. Get it cleaned up fast, and get some signs that say "WET FLOOR" if the floor has been mopped recently. Alerting people to possible danger is one step toward mitigating it.
The points above are real suggestions from the National Safety Council. We didn't dream it up. Falls are always 100 percent preventable, and we want you, your employees, customers, and clients to be safe during this winter season.
Do you have other questions? It's easy to contact us, and we're happy to help you. You can always call us at (877) 333-1018 or email us at sales@eaglemat.com for more information or if you aren't sure what you need.