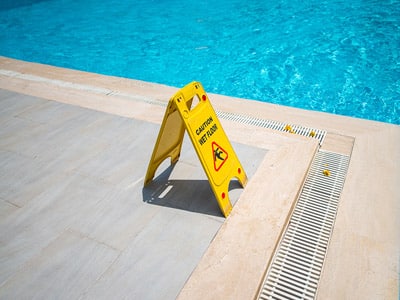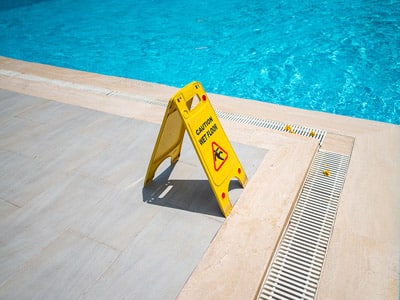 Nothing is quite as refreshing as taking a dip into a cool pool after basking in the sun all day. Whether you are lucky enough to have a pool in your very own yard, or you swim at the nearest public facility, staying safe in these areas is of the utmost importance. Slip and fall accidents are far too common on wet pool patios. Just one fall can result in a head injury, potentially causing life altering or deadly damage.
Make this summer a fun and healthy one by following these pool safety tips each time you head out for a swim.
Wear the Proper Footwear
Water shoes or pool shoes are recommended for walking around slippery surfaces. Some public pools even require visitors to wear these coverings to avoid accidents and injuries. Select a shoe that is securely fastened to your foot and features a gripping sole. Flip flops and sandals, while stylish, can cause tripping since they aren't secured properly onto feet. In addition, the lack of a toe covering leaves you susceptible to stubbing your toe. While seemingly a minor injury, stubbing a toe can be extremely painful and lead to a detached nail, which can later cause an infection.
It's best to keep your feet fully protected to avoid even the slightest mishaps that keep you off your feet for the duration of the season. If you are injured on your feet, clean up your wound and cover properly. Always keep a first aid kit nearby, whether at home or at the waterpark, to minimize the risk of infection. Afterward, it's best to call it a day and allow your open sore to heal before you head back to the pool. Most public swimming areas don't allow swimmers with exposed wounds to go swimming for their own safety and the safety of the other swimmers. Besides, there's nothing worse than seeing a bandage floating by in the water at a communal facility.
Install Pool Matting
Rubber drainage mats are a necessity for areas of high traffic prone to puddles. Locker rooms, pool houses, water parks, and patios, whether commercial or residential, should be equipped with these mats to keep swimmers safe. Otherwise, you risk personal injury in your home, or alternatively, liability at your recreational business.
Water accumulation on the floor is just as dangerous outside as in an office setting or lobby. You wouldn't allow puddles to form on slippery surfaces indoors, so why let them sit and cause risk outside? Consider Vinyl Sponge Mats that trap moisture beneath their surface. Turtle Tile mats for outdoor showers allow water to flow beneath the surface and drain into the proper pipes on the floor. Each of Eagle Mat's outdoor and locker room matting options are comfortable, so walking barefoot won't lead to painful pressure or burns.
Walk, Don't Run
Kids tend to run around when they are having fun or playing, but the waterpark or pool is not the place for rushing. As a business owner, install signs that clearly outline "pool rules." Signage should be clear, legible, and large. One of the most important rules to keep is no running around the pool or in locker rooms. As a homeowner, teach the kids (and young adults) that running around slippery surfaces like the pool can be extremely dangerous. Doing a cannonball might be a rite of passage, but isn't worth the potential risk of slipping and hitting your head.
Hire a Lifeguard
If you own a public pool or waterpark, a lifeguard is typically mandatory under state and federal law. In your own home, you might be less inclined to hire a trained lifeguard for everyday you enjoy the pool. As long as you have someone actively watching the swimmers – especially the younger crowd – who aren't swimming themselves, you mitigate your risk of a drowning incident. For large parties, it's best to hire a professional lifeguard so all guests and hosts can enjoy the party and not have to worry about keep an eye out at all times. Keep flotation devices around the pool in case of emergency, and discourage guests from swimming while drinking alcohol.
An injury can put a damper on what is otherwise a fun-filled season. This summer, keep your family and friends, or customers, safe with the proper safety tips.
For more information on outdoor floor mats, contact Eagle Mat at (877) 333-1018 and discuss the best, most practical options for your pool.