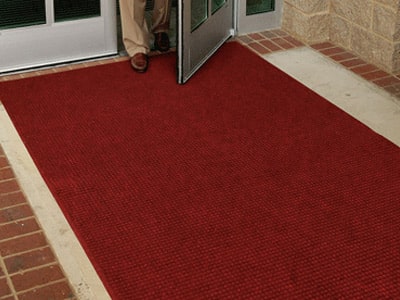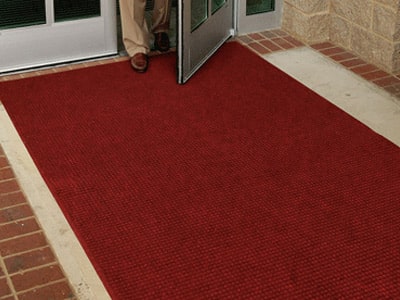 Business owners often wonder: Why invest in extra mats and runners, especially if I already have an outdoor mat?
While outdoor mats are great at lessening the debris brought indoors, they are not full proof. The best facilities have both indoor and outdoor floor coverings. Consider the following reasons why you should incorporate runners in your office.
Top 5 Reasons to Invest in Runner Mats
Runner Mats Provide Better Cleaning
Mats don't immediately eliminate dirt and bacteria from shoes. For optimal cleaning and dirt control, we recommend mats be long enough to allow at least five steps. Most rectangular "entrance mats" are not big enough to accommodate the recommended step count, allowing dirt, grime, and microbes to be carried well beyond the entryway. To combat this issue, strategically placing a runner mat on the interior side of doorways allows enough time for mats to fully cleanse shoes of debris and bacteria, leaving the rest of your office tidy. This is especially important during autumn, when leaves tend to stick to shoes pretty well until they are dislodged after a brief period of time.
Exterior Mats Tend to Weather Faster
Although many exterior mats are extremely durable and provide some weather-resistance, they still break down over time. If you have an older outdoor mat, provide extra protection indoors so anything leftover is properly cleaned off upon entrance. Runners control dirt and grime that make it past weathered outdoor mats.
Improved Air Quality (IAQ)
Poor air quality can lead to scratchy throats, sneezing, itchy eyes, and fatigue – four symptoms you don't want to distract from your employees' work duties. Healthy, happy workers are the key to a successful business, and air quality monitoring is the first step to ensuring those traits in your workforce. According to studies by the Environmental Protection Agency, tracked soil raises air pollution levels up to five times higher than outside. Aside from proper debris elimination, make sure to regularly clean your facilities runners, check your heating and cooling equipment for buildup, and keep indoor humidity at 30 to 50 percent to discourage mold growth and other allergens.
Mitigate Accident Risks and Associated Costs
Longer mats provide more traction when traversing tiled floors, most commonly seen in lobbies, service areas, and manufacturing facilities. Significantly reduce the chance of slip and fall injury by incorporating more floor coverings in your office, especially if you have hardwoods, tiles, or other slippery surfaces. With a longer mat, more square footage is protected from potential spills that could lead to slip and fall accidents. According to the National Floor Safety Institute (NFSI), falls account for over 8 million hospital emergency visits. From a financial standpoint, allowing your floors to go uncovered is bad for business. A staggering 85 percent of worker's compensation claims are from slipping accidents on slick floors, according to the Industrial Safety & Occupational Health Markets. Falls in general cost an estimated $13 to $14 million per year in the United States. Incorporating a more aggressive floor covering like a floor runner helps to lessen the odds of these incidences occurring at your business.
Improved Interior Design
An elongated floor mat tends to make spaces look longer and therefore larger. If your small business lacks a ton of interior space, creating such an optical illusion helps with appearances or entertaining until you're ready to expand. Additionally, floor runners add dynamism to an otherwise ignored design feature of a room – the floor. Without some sort of covering, spaces tend to feel cold and uninviting, two qualities you don't want your employees feeling the moment they come into the office each morning.
For your employees' safety, it's time to consider a runner mat for your lobby or hallway. Eagle Mat's facility experts can help outfit your office with the safest, most durable elongated floor runners currently on the market. We offer a variety of commercial and at-home mats, many of which are available in various sizing so your office looks professional and seamless. Check out Eagle Mat products and contact us for any inquiries.