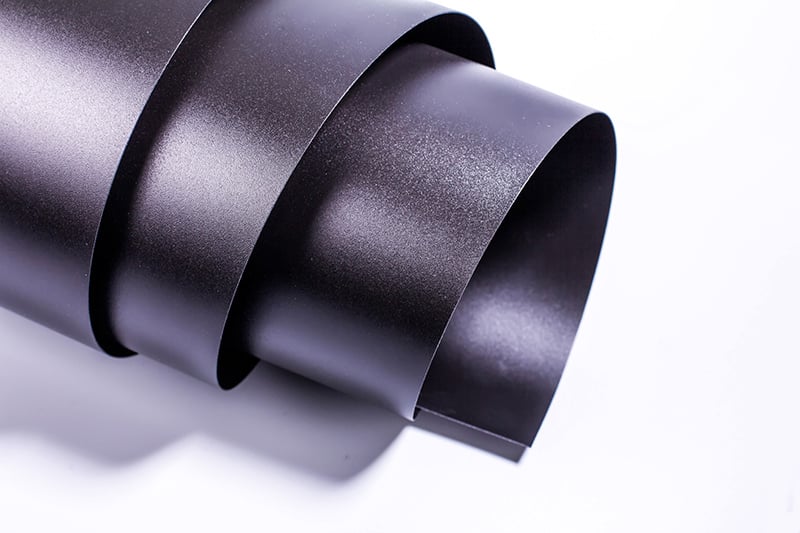 We have several types of roll-out floor mats for garages. Let's take a look at a few of them and see what they have to offer…
Coin Pattern Garage Flooring
The Coin Pattern Garage Flooring is made from ultra-tough PVC. It comes in three neutral colors and is also available in two thicknesses: 60mil and 70mil.
These roll-out mats do not require any adhesive, which means you can clean it inside or outside of the garage. And you can also reposition it if you want to after you start using it.
It's resistant to all kinds of spills including water, oil, salt, and battery acid, products that would definitely stain and or damage a concrete floor.
Levant Surface Garage Flooring
The Levant Surface comes in 55mil thickness, and has a leathery feel to it. It's our most economical choice, but it's still made of that hard-wearing PVC.
This choice also comes in three colors, and no adhesive is needed in the garage. Levant Surface Garage Flooring can be use with adhesive on wood—with a marine-grade adhesive—and does have some other outdoor or marine applications.
You would clean it just like the Coin Pattern flooring with a broom, vacuum, or your hose and some soap.
Ribbed Pattern Garage Flooring
The Ribbed Pattern flooring is slightly different because it has ribs. So, while this flooring is made of the same sturdy PVC and comes in rolls, it's very effective at channeling away dirt or water because of the ribs.
The Ribbed Pattern also comes in three colors, is 55mil thick, and doesn't require adhesive unless you're applying it to wood for some outdoor purpose. In that case, you would use a marine-grade adhesive like needed for the Levant Surface flooring.
Diamond Tread Garage Flooring
The Diamond Tread flooring is a bit thicker at 75mil. The diamonds give a distinct rugged appearance and slightly more traction because of that added thickness.
The Diamond Tread is also super hard-wearing PVC, resistant to spills and chemicals, and doesn't require adhesive. It won't curl or chip or do anything except make your garage floor neater, cleaner, more attractive, and safer—just like the flooring types mentioned above.
We do have some other types of garage flooring including interlocking tiles, which may interest you if you have an odd-shaped floor to cover. The interlocking tiles also come in more colors, and there's even an eco-friendly option made of recycled vinyl.
Now would be a good time to put down some roll-out floor mats in the garage before it starts to rain and snow and you're bringing all that grit and salt into the garage. Roll-out floor mats provide traction and a more comfortable surface for standing on as opposed to that cold, hard concrete floor.
Do you have other questions? It's easy to contact us, and we're happy to help you. You can always call us at (877) 333-1018 or email us at sales@eaglemat.com for more information or if you aren't sure what you need.