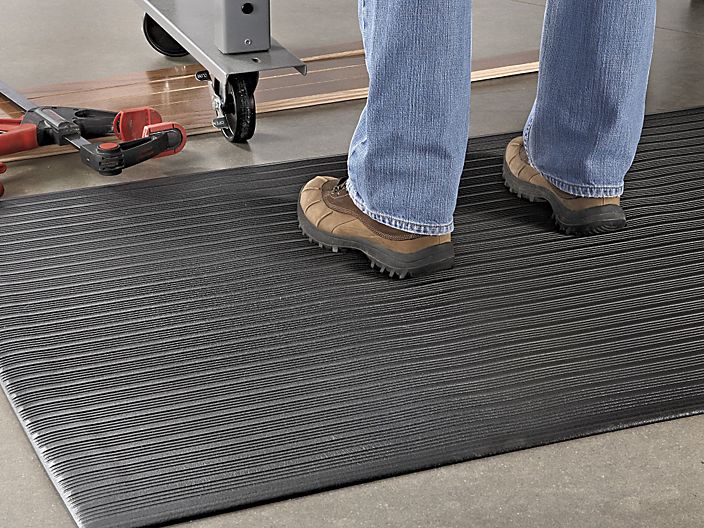 The word "industrial" means different things to different people. It's defined in Wikipedia as that segment of the economy involving the manufacture and transportation of products.
So, while we have anti-fatigue mats for every application, like kitchens or retail establishments or salons, let's assume that industrial means the toughest conditions, and let's have a peek at the best anti-fatigue mats that will have to stand up to those harshest conditions.
This is a crackerjack mat designed for dry industrial use. If you're eco-conscious, don't worry, the mat has 35% recycled content. It's made of Nitricell, which is a combination of PVC and nitrile rubber.
It comes in five different colors and can be manufactured in custom shapes for your own unique application. The best thing about this mat is that it's now not only resistant to chemical damage, but it's also available with Anti-Microbial Technology to resist the growth of bacteria and fungi.
Again, this is for dry industrial applications. The SMART Top is even greener than the Marble Top. The sponge base is made of 100% recycled urethane composite, and the rest of the mat is made of 80% recycled materials.
These mats are designed for wet industrial applications, where you need to funnel away water (or other liquids) and maintain traction.
There are a few different formulations for the 24/7 mats depending on what types of chemicals the mat is likely to come in contact with. For example, the mats are slightly different for petroleum-based fluid exposure versus mineral oil-based fluid exposure.
As always, the big advantage of tiles is that they are interlocking, so you can have long runs of mats or coverage in awkwardly shaped areas where the typical mat shapes don't work as well.
The manufacturer of the three mats mentioned above is Wearwell. On the Wearwell website, there is a guide to chemical resistance, and you can see which materials (that their mats are made of) are resistant to which chemicals. This chart can give you an idea which mats are better suited for your industrial application, but you can just as easily talk to us, as well. Do you have other questions? It's easy to contact us, and we're happy to help you. You can always call us at (877) 333-1018 or email us at sales@eaglemat.com for more information or if you aren't sure what you need.