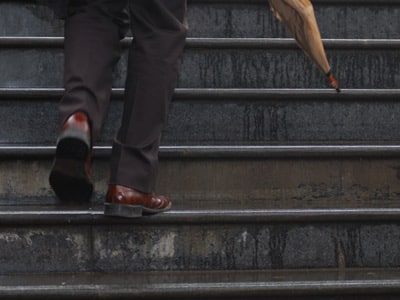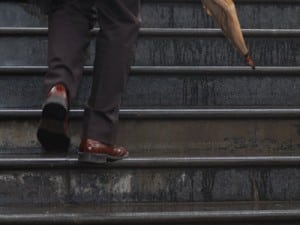 The only thing worse than slippery floors is slippery stairs. Special tread coverings do several jobs: they channel dirt, debris, and water away; and they offer traction and friction for the shoes. These products for the stairs provide safe footing for your employees and your customers.
Fortunately, we have plenty of stair tread treatments to choose from in tons of colors. We have products made of rubber, vinyl, and aluminum, and they all have Flame Spread Ratings of 25 or less in accordance with ASTM-E84. Rubber and vinyl products have the added advantage of muffling the sound of footsteps in noisy stairwells.
Rubber
We have several rubber products to choose from. The Diamond Tread, for example, comes in 33 beautiful colors. This product is installed using a special adhesive. The Diamond Tread is attractive, durable, and easy to clean.
Vinyl
We have six different vinyl stair treads to choose from. The 1/4" Ribbed Vinyl Tread, for example, has horizontal grooves for excellent traction. This product is also installed with adhesive and is resistant to grease and abrasion.
Aluminum
Our extruded aluminum stair tread product has horizontal grit strips for traction. These treads can be installed with adhesive or ordered with holes pre-drilled for installation with countersunk screws.
Aluminum treads are suitable for any kind of stairs, such as wood, concrete, or stone, and can be used inside or outside. Despite being made of aluminum, these treads still come in eleven colors.
Please make sure that your stairs are as safe as possible before the holiday rush and the wet winter weather and consider putting treads on your stairs for extra traction and prevention of slips, trips, and falls. You can minimize your risk and maximize your stair performance at the same time. Employees and customers are all happier when they feel safer.
The possibilities are endless. Whatever you choose, let us help you select the best commercial mats and flooring for your commercial space. Do you have other questions? Are you not sure what you need? It's easy to contact us, and we're happy to help you. You can always call us at (877) 333-1018 or email us at sales@eaglemat.com for more information.