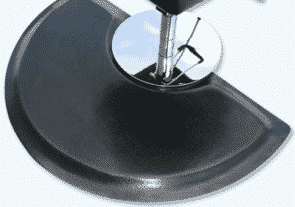 A visit to a hair salon is supposed to be one of life's little, recurring luxuries. Doing something nice for themselves, men and women alike enjoy the time spent in the chair, chatting with their stylist and letting them work their magic. While customers expect to leave a salon feeling good, all it takes is a slip and fall to turn a pleasant afternoon into a painful ordeal.
Unfortunately, salons present a ripe environment for slips and falls. Unless salon owners take some basic, common-sense, and very affordable steps to minimize the dangers that lay on their floor, they could see their business take a big haircut in the form of lawsuits and insurance claims.
Salon Slip and Fall Dangers
The very nature of a salon creates several risk factors that can lead to injury-causing slip and fall accidents. The floor is continuously covered in hair clippings. All that washing and conditioning, and customers with wet hair moving around, can lead to the accumulation of moisture in puddles or simply a damp floor. And that floor gets a lot of foot traffic throughout the day, with a constant parade of customers and stylists moving from station to station.
While most salon owners and staff are relatively diligent with their sweeping and mopping, those essential tasks can fall by the wayside on particularly busy days. And all it takes is one minute between the time a hazard arises and when salon staff addresses it for someone to come crashing to the ground with a severe spinal or head injury.
Minimize Slip and Fall Risks and Increase Stylist Comfort With Floor Mats Custom Designed For Salons
At Eagle Mat, we understand the unique risks and safety needs of salons, spas, and beauty schools. That is why we offer a wide selection of salon floor mats specifically designed for the needs of stylists and their customers. Our product line is available in a variety of different textures, colors, and sizes. Not only do our salon mats create a safer environment, but they also enhance the professional look of a business and make long hours of standing more comfortable for stylists.
Some of the salon products we offer include:
Vegas Salon Mats. These mats are designed to withstand the sharp pressure of high-heels and spikes. Vegas Salon Mats are manufactured with a double-thick; nylon reinforced polymeric vinyl for maximum resistance to punctures. The Vegas mat's extra thick top surface protects while maintaining a soft and pliant sensitivity underneath your feet.
Reflex Salon Mats. Revolutionary in the industry, these mats provide dual action support in both the polymeric sponge base and raised dome surface, proven to stimulate blood flow and reduce muscular stress.
Diamond Plate Salon Mats. These mats have raised diamond ridges that add extra traction to prevent falls and extra safety from punctures of sharp objects.
If you would like to learn more about how we can enhance your salon's safety, comfort, and appearance, contact us today at 1-877-333-1018 to speak with our knowledgeable sales team.