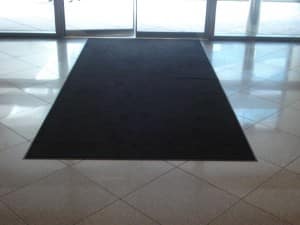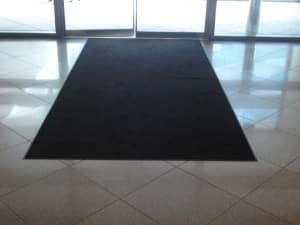 True, the difference between an entrance mat and an entrance runner is subtle.  Generally speaking, entrance 'mats' are no larger than 5'x10', though custom over-sized mats that exceed these dimensions exist.  Runners, on the other hand, may run upwards of 50' in length.  Given this basic difference in size, it is helpful to remember that 'mats' are meant to control debris and moisture accumulation at a facility's point of entry while a "runner" may aim to achieve similar goals over longer floor spaces.  This article has been published to provide a basic overview of entrance mats versus entrance runners while providing tips for facilities that find themselves unable to choose one over the other.
Entrance Mats
More often than not entrance mats are the simplest form of mat for the entryway in any establishment.  They are typically an oval, circular or rectangular shape that can be easily placed at the doorway.  The business can opt for colors that complement with the company logo or even personalize their entrance mats with the company logo on it.  Other than this, matting material should be selected based on the visitor traffic that the area will receive:
Low Traffic Areas:  Carpet mats and vinyl mats are the most popular option for low traffic areas.  These mats come in a variety of sizes and are adept at handling the needs of most facilities.  Logo mats are a good 'carpet mat' option as well, allowing businesses to prominently display a company logo or business slogan at all major points of entry.
Moderate Traffic Areas:  Moderate traffic areas may require a more resilient and stable entrance matting option, and for such areas Eagle Mat recommends the use of mats made with commercial-grade Nitrile rubber, polypropylene, or other durable material.  Waterhog mats are a superb option, as are larger entrance runner mats (discussed in more detail in the Entrance Runners section below).
High Traffic Areas:  There is greater concern for safety in high traffic areas due to the heavy streams of visitors who may flow through these points of entry throughout the day.  Recessed mats are ideal for such environments, and they are available in a variety of materials/surface textures.  Recessed mats lie flush with the ground and minimize the likelihood of accidental trips and falls.  Alternatively, elongated entrance runners may also be used in areas of high traffic (discussed in more detail in the Entrance Runners section below).
Entrance Runners
Entrance runners are simply elongated mats that may run 6', 8', or custom lengths of up to 120' (depending on the model).  There are several benefits to using an entrance runner over an ordinary entrance mat, including:
Safety:  Entrance runners are sometimes the safest matting option for facilities that experience a moderate to high degree of visitor in/out flow.  A longer matting surface equates to a larger area on which shoes will be cleaned.  This drastically lowers the amount of dirt, moisture, and debris that is carried beyond the entryway.
Subtle Style:  Entrance runners are available in many of the same surface textures and colors as their smaller 'mat' counterparts, yet they offer a subtle element of style that ordinary mats do not.  Entrance runners may be used in long hallways or corridors to complement other elements of décor, including wall color, duct work, handrails, and more.
Direction:  Along with subtle style, entrance runners may also be used to direct visitors along a certain pathway.  Facilities may use runners to create a dry walkway across tile, marble, or hardwood that gives "grip" to pedestrians.  This is particularly effective for facilities in climates that experience a great deal of rainfall, as guests may need a long and stable walking surface to safely cross from one side of a smooth-floored lobby to the other.
Entrance mats or entrance runners can have their own pros and cons. However, in the end a business has to choose on which one that will serve the business and their customers with the greatest degree of care.  Entrance mats are a viable option for facilities that wish to achieve basic safety and cleanliness goals by covering relatively small floor spaces.  Runners, on the other hand, are a better option for facilities that need to cover larger floor spaces and/or care for the safety and hygiene of larger crowds of visitors.