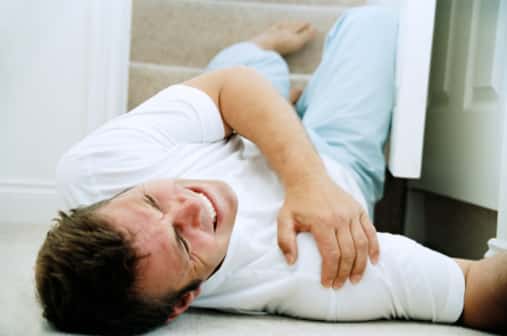 At Eagle Mat & Floor Products, we spend a lot of time warning our customers about the dangers of slips and falls at their businesses or facilities. That is because slip and fall accidents by employees and visitors cost American companies billions of dollars every year. Preventing such accidents through an investment in high-quality, anti-slip commercial floor mats and taking other proactive measures ultimately can save a business tens of thousands of dollars in claims and prevent the real tragedies that often follow a slip-and-fall.
But floor mats won't only provide you protection from actual slip-and-fall accidents. They can also minimize the chances that your business will fall victim to slip-and-fall scams.
According to the National Insurance Crime Bureau (NICB), questionable slip-and-fall insurance claims against American businesses are on the rise. Slip and Fall Questionable Claims (SFQCs) are often made by people looking for a quick settlement based on an "orchestrated event where the individual creates a false and potentially dangerous scenario with the specific intent to stage a fall for monetary gain."
The majority of SFQCs occur at retail stores, parking lots, or restaurants. From 2017 through 2019, SFQCs increased two percent, according to the NICB. The state with the largest number of SFQCs was California (688), which accounted for 11 percent of all SFQCs from 2017 through 2019.
Such slip and fall scams can take many different forms and involve props or elaborate planning and deception. The NICB describes a typical phony slip and fall scam:
Two people enter a large retail department store and split up with one going down an aisle. One waits until he/she is alone and then takes a bottle of liquid from his/her bag and pours it on the floor. The second individual positions himself/herself at the end of the aisle and the first person "falls" in the liquid. The second person then runs to his/her aid and calls for assistance while telling everyone she "witnessed" the person's fall.
When a business takes proactive steps to prevent the kind of hazards and circumstances that lead to falls – both real and fake – it makes it much more difficult for someone to make a credible or successful claim.
The first line of defense against slips and falls involves keeping water off of floors. And the best way to do that is with commercial and industrial floor mats specifically designed to absorb water and prevent slips.
As their name implies, Waterhog mats do just that: hog water tracked in on shoes and clothing. Made of crush-proof polypropylene material, Waterhog mats aggressively clean and trap moisture, dirt, and debris using signature "nubs" on their surface. Those nubs come in several patterns, such as diamond, basketweave, and diagonal patterns. Waterhog matting is best used in entryways, lobbies, and other heavy traffic commercial locations.
Eagle Mat and Floor Products sells and rents matting, safety flooring, and other products that help businesses deliver the highest quality of service to clients, patrons, and employees alike. Contact us today at 1-877-333-1018 to speak with our knowledgeable sales team about product availability, functionality, and installation.