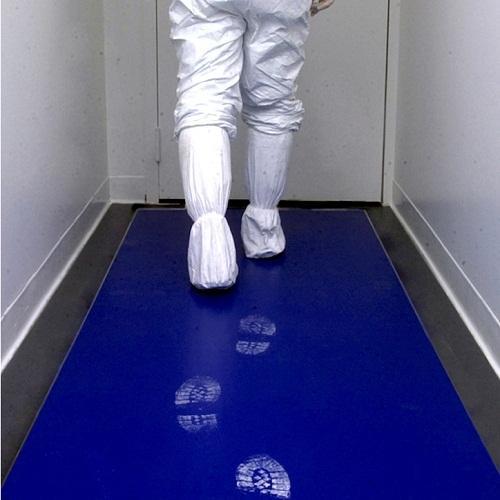 With workers across America returning to their offices, factories, warehouses, stores, and other places of business after the pandemic, employers are spending a great deal of time, money, and effort on ensuring the safety of their workforce and visitors. Understandably, many of these efforts focus on all of the precautions we've become used to over this long year; masks, hand-washing, social distancing, and redoubled cleaning and sanitizing of surfaces and circulated air.
But many business owners don't realize that a key component of disinfecting their workplaces is right at their feet – literally. High-traffic areas can become a highway where all kinds of contaminants, including viruses like COVID-19, can make their way into the workplace.
A recent study by the Centers for Disease Control and Prevention revealed coronavirus can easily and rapidly spread on floors in contaminated areas. The study examined samples taken from floors in various areas of Huashan Hospital in Wuhan, China, and found a rampant spread of droplets containing coronavirus. Half of the shoes worn by hospital staff tested positive for COVID-19.
Of course, viruses aren't the only substances that can be tracked inside on the bottom of shoes. Bacteria and other pollutants also travel well and can render other sanitizing efforts much less effective.
That is why places like laboratories, hospitals, and foodservice businesses invest in floor mats that are specially designed to trap contaminants before they can pollute a sterile environment. When placed in the entrances of clean rooms or other sensitive areas that need to remain sterile, these "sticky mats" clean and disinfect the shoes of guests before they enter the facility.
Clean room floor mats trap impurities, dirt, and debris on the mat's tacky surface. Additionally, Eagle Mat also carries several sterilized clean mats that contain anti-microbial technology that helps to kill bacteria. For example, our Micro Guard matting is treated with AEGIS Microbe Shield technology to guard against degradation from microorganisms, reducing pollutants, bacteria, and odor emissions in entryways and other high traffic areas. Our online store also features many matting options from manufacturers like Waterhog, Pur-Comfort, and PermaTrack. 
The clean room floor mats, sticky mats, and anti-microbial mats can all be part of your company's efforts to welcome back workers and guests to your facility. At Eagle Mat and Floor Products, we proudly offer the finest in commercial mats and floor covering products in the marketplace. Our products are designed to provide safety, durability, and functionality in all types of environments. Contact us today at 1-877-333-1018 to speak with a member of our knowledgeable sales team.