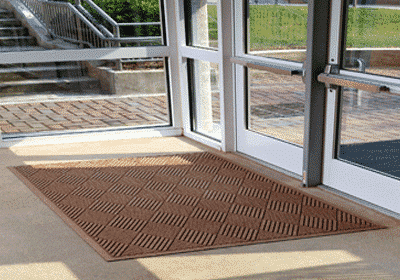 Eco-friendly mats are ideal for individuals and businesses looking to reduce their carbon footprint! We now offer tiles made of recycled tires that are available in a variety of styles. Our mat and tile selection include models that are made of up to 100% recycled PET drinking bottles. Our eco mats also and feature a skid resistant backing comprise of 20% recycled rubber tires.
Eagle Mat and Floor Products now offers recycled matting products that are certified Green Products. Businesses that purchase these durable and eco-friendly products are eligible to receive LEED certification credits!
Browse our selection of recycled rubber mats from industry leading brand names like Waterhog, Equinox, and Everlast.
Waterhog ECO Premier is one of the Eco-friendliest floor mats on the market today!  The crush resistant diamond pattern and straight ridge design aggressively traps dirt and moisture below the walking surface. 
Waterhog ECO Elite is constructed of 100% recycled plastic water bottles, making it one of the Eco-friendliest floor mats on the market today. 
Mat construction: 100% recycled material!
Weatherproof polypropylene fabric enables outdoor application.
Ideal for moderate to heavy traffic areas both inside and outdoors.
Water Dam technology capable of holding up to 1.5 gallons of water!
Our Rubber Scraper Mat features a 100% Nitrile rubber construction that is made to last! Raised rubber cleats effectively clean foot traffic while trapping debris below the mat's surface.
Waterhog ECO Grand Premier features a half oval design to compliment those first two steps inside or outside a door entrance. The stylish half oval design is a fashionable take on ordinary front door mats.
Eco-friendly floor mats include all those mats that are manufactured through a sustainable or green production process, such as recycled mats, those that promote energy efficiency including all energy efficient heated floor mats, and all nonpolluting mats — that is all mats, which do not produce or release harmful emissions either during production or while being used, such as zero emission heated mats.
Do you have other questions? It's easy to contact us, and we're happy to help you. You can always call us at (877) 333-1018 or email us for more information or if you aren't sure what you need.