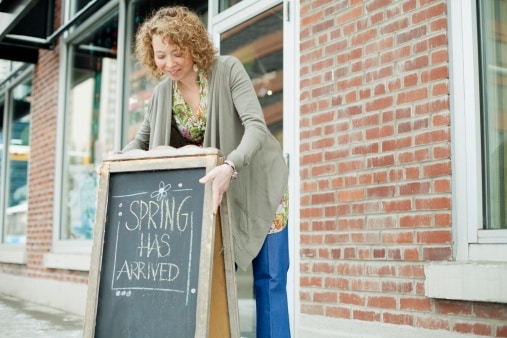 Whether online or in person, retailers get one chance to make a first impression with customers. And while plenty of business is now conducted through the internet, foot traffic remains the lifeblood of brick and mortar stores. And the feet that walk through a store's front door represent potential dollars in a retailer's pocket. But if shoppers walk past a storefront and see a sloppy and unappealing entrance, or walk inside and find an equally subpar interior, that first impression may turn out to be their last impression of the business.
The first thing a shopper encounters when entering a store is the entryway, and the best way to keep an entrance attractive, clean, and safe is with an entrance mat. It is also an opportunity to reinforce your brand with custom logo entrance mats that prominently display your store's name or logo.
At Eagle Mat, we sell entrance mats in various materials, including rubber, vinyl, carpet, and polypropylene. While carpet mats are recommended for indoor use only, the other materials are ideal for inside and outside of an entryway. Entrance mats provide different levels of durability, functionality, and aesthetics depending on the material and cost. Regardless, commercial entrance mats take a lot of wear and tear and need to be up to the task.
One of the most popular lines of entrance floor mats we sell is from Waterhog. Made of polypropylene, a strong material that provides functionality both indoors and outdoors, these mats are known for their special nub-like protrusions that aggressively capture dirt and debris, which in turn keep stores clean. In addition, Waterhog offers a logo mat to create a branding image when customers enter a store.
The Waterhog logo mat is not the only safety mat that we can customize with a logo. The Graphic Impressions Logo Mat is printed by high-quality digital printers to ensure crisp designs and vibrant colors with any company logo. When customers approach a retail establishment, they will appreciate the aesthetics of any store with an attractive logo at the entrance.
Logo mats are made using modern printing techniques, including color shading, color fading, unique colors, detailed imagery, and 3-Dimensional images. The backs of the logo mats are made with skid-resistant 100% Nitrile rubber to keep them in place. Anti-static materials keep electrostatic shocks at bay.
At Eagle Mat and Floor Products, we offer a wide range of mats, carpets, and other flooring products designed for all kinds of retail establishments. Our products are designed to provide safety, durability, and functionality in all types of facilities.
Contact us today at 1-877-333-1018 to speak with a member of our knowledgeable sales team about how custom entrance mats can enhance your business.