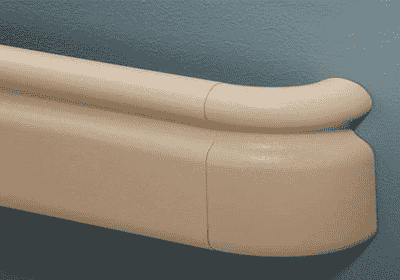 Preventing slips, trips, and falls is one of the most important things businesses and building owners can do to protect their employees and visitors and minimize the risk of costly workers' compensation claims and personal injury lawsuits. Floor mats are certainly a critical element of fall prevention. But other safety features can further reduce the likelihood of serious injuries, especially among individuals who may have footing, strength, or balance issues, such as seniors and people with disabilities. This includes installing handrails along heavily trafficked halls and corridors.
Handrails provide stability and support that can increase safety during inclement weather, such as rain, ice, sleet, and snow, or when floors otherwise become slippery. For those with mobility issues, a handrail can make them feel more comfortable and confident. They also serve as a last line of defense after someone suddenly starts falling and needs to grasp at something to regain their balance. And when someone is trying to ensure their own balance and safety, providing them with a handrail means they won't be touching, dirtying, or damaging walls.
At Eagle Mat & Floor Products, we have several different stainless steel and aluminum handrail options suitable for all types of facilities.
Our Easy Grip Handrail is constructed with a round surface for easy gripping ability, while the cylindrical profile provides a full hand grip for optimal safety. Available in a wide variety of colors, this simple yet effective handrail is engineered to give a sturdy hand grasp while protecting interior walls from damage.
Better Grip Handrails are ideal for areas where people need more oversized handrails for better grip and support. The traditional shape and style of the Better Grip Handrail provide more surface area for enhanced hand-holds, while the thicker design provides better wall protection for heavily trafficked hallways and corridors.
Thumb Groove Handrails are a comfortable and ergonomic solution for heavily trafficked corridors in which a firm grip and superior wall protection are equally needed. This handrail's "thumb groove" enables smooth hands-on gliding from end to end, and its naturally tall height provides added support and stability.
If you are interested in increasing safety and protecting your facility, please contact Eagle Mat and Floor Products at 1-877-333-1018 to speak with our knowledgeable sales team about handrail availability, functionality, and installation.