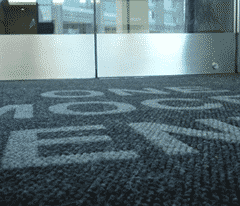 Many of the most popular floor mats we sell at Eagle Mat and Floor Products are Berber mats. But what are Berber mats and what makes them the mat of choice for so many businesses and buildings?
What Is Berber?
The term Berber generally refers to carpet or matting that is overall light in color with flecks of darker colors (usually brown or gray) and woven with a distinctive loop pile that attaches to the backing and remains uncut. They are called Berber mats because they were inspired by the weaving style of the Berber people of North Africa.
The hallmark of any Berber mat can be seen on its surface. Take a closer look, and you will notice a distinctive high-low texture comprised of finely woven polypropylene yarn that is both high-density and compression resistant.
Why Are Berber Mats So Popular?
Not only do Berber mats and tiles perform exceptionally well in both outdoor and indoor settings, but they are also available in dozens of eye-catching color combinations. This makes Berber mats and tiles one of the most functional and aesthetically pleasing products available. From five-star hotels to shipping facilities, Berber mats can be found in a wide variety of commercial buildings.
Berber mats are great for winter, effectively scraping the mess off of the bottoms of customers' and employees' shoes. Preventing the tracking of dirt, debris, water, snow, and ice throughout your business has the following benefits:
It saves your floors from the damage caused by water and debris.
It saves your employees the time and effort of cleaning up the mess.
It makes your business look better. A clean business environment looks more serious and professional than a dirty one.
It makes your business safer. Wet, slippery floors are a significant hazard for employees and customers alike.
In our company's long history, no product line has surpassed our Berber Supreme series in sales. The Berber Series consists of Berber Entrance Floor Mats, Berber Recessed Floor Mats, and Berber Logo Mats, where you can brand and personalize your company's logo or insignia right into the matting surface.
Want to learn more about Berber mats and explore which options are best for your business? Contact Eagle Mat and Floor Products today at 1-877-333-1018 to speak with a member of our knowledgeable sales team to learn more about how we can assist you with your floor mat needs.