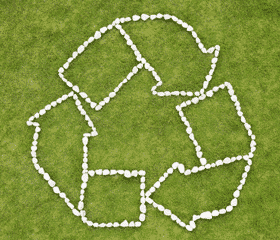 The use of eco-friendly materials is quickly becoming a leading trend in commercial real estate development, and commercial floor mats are no exception.  Today, a comprehensive range of Eco-Friendly Mats that reduce environmental impact without sacrificing performance are available.  These Green floor mats come in an array of vivid color options and some may even be customized with a company logo, slogan, or insignia!
Eco-Friendly Floor Mats
Controlling the accumulation of dirt and debris is of extreme importance to property owners, facility managers, and all others who have a vested interest in a specific piece of commercial real estate.  From a traditional business perspective, keeping workspaces clean has a few direct benefits:
Provides defense against liability resulting from accidental slip-and-fall.
Creates the appearance of a clean and professional place of business, thereby increasing consumer confidence, sales, and profitability.
Bacteria and contamination control in sensitive environments like laboratories, restaurants, and hospitals.
In the wake of the new Eco-friendly Building trend, however, new Green matting and flooring products have gained added prestige for their ability to reduce environmental impact without sacrificing aesthetic appeal, functionality, or price.
Waterhog:  Earth-Honoring Entrance Mats
The Waterhog ECO line of floor mats combines tough cleaning ability with environmentally conscious construction to create an ideal entrance mat for a variety of applications.  Available in both the Premier and Elite carpet patterns, the Waterhog ECO line is made of 100% Polyethylene terephthalate (PET) recycled drinking bottles.  PET plastic is made by recombining used plastics from a variety of consumer products, like water bottles, to create a clean and environmentally friendly synthetic material.
Of course, the PET recycled fibers of the Waterhog ECO Matting line are just half of the story.  This line of floor mats also features a unique anti-slip backing made of 20% recycled rubber.  From front-to-back, it is hard to find a more Green matting product!
Recycled Rubber Floor Mats
When it comes to slip-resistant cleaning ability, it's hard to beat all-rubber floor mats.  Eagelmat.com features a deep collection of recycled rubber mats that are perfect for use both indoors and outdoors.
Rubber Pronged:  This dense floor mat is manufactured with a co-polymer rubber specifically designed to remain resilient through long periods of heavy abuse.  Made of 50% recycled content, our Rubber Pronged Floor Mat is a certified Green Product that is truly built to last.
Rubber Scraper ECO Mat:  Made of 95% post-consumer recycled content, this heavy-duty entrance mat features a multi-directional cleaning surface that is tough on dirt yet easy on the planet.  Spread environmental-awareness with this Green mat, which also features the Universal Recycling Symbol on its surface.
Tire Link Door Mat:  These tough entrance mats are constructed with recycled rubber strips and are reinforced with galvanized steel rods.  Unique in appearance, our Tire Link Door Mats are a true Green product that is easy to clean and maintain.
Recycled Rubber Tire Tiles:  Ideal for covering a large or uniquely shaped area, our Recycled Rubber Tire Tiles are produced from heavy-duty commercial aircraft and truck tires.  Show your environmental awareness without sacrificing heavy-duty cleaning ability with these Tire Tiles from Eaglemat.com!
Floor Mats and Green Building
Though small compared to other building materials like steel and wood, Eco-Friendly Floor Mats are nevertheless essential pieces of the Go-Green! puzzle.  Businesses that embrace environmentally friendly products, no matter how small in size, are actively joining the fight to save our planet.  For more information on environmentally friendly floor mats, as well as our complete collection of Earth-honoring matting products, please visit our Eco-Friendly Mats online store!