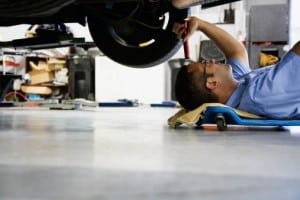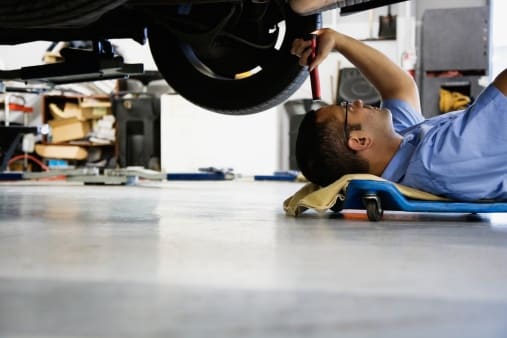 When you're getting ready to put down new garage flooring, one of the first questions you may ask yourself, is do you want sheet flooring or tile flooring. Let's look at the advantages and disadvantages of each.
Sheet Flooring
Sheet flooring is slightly easier and faster to install. After all, it's just a giant sheet. Sheet flooring also has slightly better integrity because, again, it's one giant sheet. Our Coin Pattern sheet flooring is a good example. Your floor is going to be one solid color, although we do have six colors to choose from. It's easy to clean, and easy to cut and install.
Another type of sheet flooring for the garage that we have is our Ribbed Pattern sheet flooring which doesn't need any adhesive. Just roll it out. The Ribbed Pattern flooring comes in six colors, and those ribs provide extra traction.
The obvious advantage of sheet flooring is that there are no seams. If you anticipate lots of chemical spills, you may prefer sheet flooring. Also, sheet flooring is more resistant to vandalism if that's something you anticipate.
Tile Flooring
Tile Flooring in contrast is slightly slower to install because you're installing one square at a time. But tile flooring does have its advantages.
Our Diamond Tread tiles come in 12, yes, 12 colors. Since you are installing them one square at a time, you can create a real artist masterpiece or a serious marketing display using different colors. While the Diamond Tread tiles are guaranteed not to chip or crack, if you do get some special damage in one area, it's very easy to replace one or a few tiles as opposed to replacing or trying to patch a whole sheet.
The Levant tiles are thick and leathery. Just peel and stick to the floor. They come in three colors and have the added benefit of providing a flooring surface with traction that's easy on your joints. These tiles also add an insulating factor against cold and noise.
The possibilities are endless. Whatever you choose, let us help you select the best commercial mats and flooring for your commercial space. Do you have other questions? Are you not sure what you need? It's easy to contact us, and we're happy to help you. You can always call us at (877) 333-1018 or email us at sales@eaglemat.com for more information.