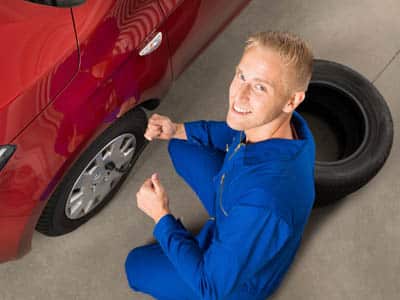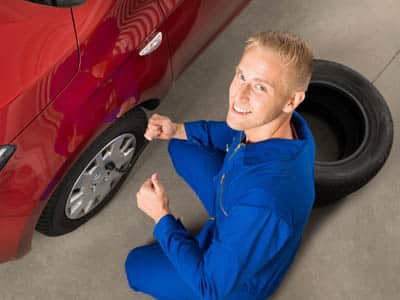 This winter, Eagle Mat and Floor Products invites shoppers to retrofit garages, work shops, and basements with durable garage mats and tiles. Improve comfort, insulate floor surfaces, and protect against excessive wear and tear with the industry's leading matting and tile products. All winter long, all online orders qualify for free shipping as well as a 100% Price Match Guarantee! Shopping for garage flooring and tiling has never been easier or more affordable, so ring in the New Year with newer, safer, and more comfortable floors in your favorite work areas!
Product Spotlight
Diamond Tread Garage Tiles are one of our most popular products for garages, auto shops, and other work areas. These tiles are easy to install, and they are available in 12 colors guaranteed to transform the look and feel of your favorite workspace. Simple yet effective, these tiles have a unique peel-and-stick design that allows for easy application. Simply sweep the floor and install— no concrete treatments required (see Installation Tips from the Pros below).
Product Highlights
Peel and stick design makes for easy installation
Available in 12 eye-catching colors
100% polyvinyl construction with non-porous surface for maximum floor protection and debris control
Guaranteed not to crack or curl
Visit our Diamond Tread Garage Tiles page for additional product specifications, or shop additional products in our Garage Matting and Tiles online store.
Installation Tips from the Pros
To ensure an even and lasting application, it's important to survey the environment where tiles will be installed— both floor surfaces as well as air temperature and general use. Specifically, it's important to take note of the following four elements: Humidity, temperature, concrete surface conditions, and existing tire marks.
Humidity: In environments that experience heavy humidity, moisture may accumulate between garage tiles and the underlying concrete surface. For this reason, consider sealing the concrete prior to tile installation. This will reduce moisture accumulation and keep tiles lying flush.
Temperature: Diamond Tread Garage Tiles are designed to withstand both cold and hot temperatures without cracking or curling. However, temperature fluctuations may cause tiles to expand. To avoid shifting and misalignment issues, it is recommended that at least 1/4" of space be left between each side and wall surface to accommodate for tile expansion.
Concrete Surface Conditions: Look for minor divots, flaking, or sprawling in the concrete, taking note of anything larger than 1/4" in diameter. Use a concrete or vinyl patching material to fill those holes and create an even floor surface prior to installation.
Existing Tire Marks: If there are tire marks on the concrete, then you can expect tire marks on the floor tiles. Tire marks are created by 6ppd, a chemical that will mark-up tiles just like concrete.
Contact Eagle Mat for Garage Matting Consultation
This winter, protect your favorite workspaces with commercial-grade garage mats and tiles from Eaglemat.com. For product specifications and order assistance, contact us online or call customer service at 1-877-333-1018.