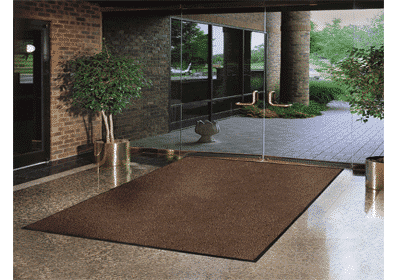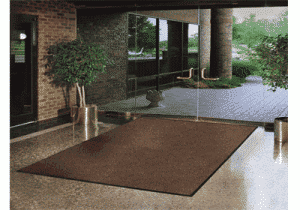 Welcome back to the Eagle Mat Blog Fall Product Spotlight. For the past month, our editorial team has reviewed a few of the industry's best safety products for businesses that are preparing for the busy season. Now that October is official here, it is also time to prepare for unpredictable wind, rain, and even light snow. Storefront safety becomes a larger issue as weather begins to shift, and controlling liquid accumulation is a top priority. Carpet mats are a cost-effective safety product to consider, and they are available in a variety of styles and colors to suit a range of needs.
When browsing carpet mats, there are two main materials for which you must be aware. The first is nylon, a special type of yarn that is extremely resilient, durable, and customizable when used in commercial applications. The second is a new material called "Berber." Both nylon and Berber are effective in controlling moisture and debris, however each has unique advantages:
Nylon carpet mats. Nylon carpet mats are among the most functional entrance mats in the industry. The surface of these mats features rows of high-twist, heat-set yarn that is designed to withstand a moderate degree of traffic. Though simple in texture, these mats effectively clean dirt from shoes and trap it below the surface.
Berber carpet mats. Berber carpet mats feature a unique "loop pile" surface construction. This texture is often referred to as "high-low" as well, and it is well known for its ability to aggressively clean and contain large amounts of debris. For this reason, Berber carpet mats are among the most popular commercial floor mats. Heavily trafficked hotels, banks, shopping malls, and other outlets rely on these mats to keep entryways clean, dry, and safe, even during busy shopping seasons.
Prevent Slippage with Commercial Grade Backing
Carpet mats are most often applied in commercial entryways, and these floor spaces tend to be made of a slick surface. Materials like smooth tile, granite, and terrazzo can be used to create a grand entrance in any commercial building, however they must be covered with safety mats to prevent slip-and-fall accidents. It is vital that these mats have a non-skid rubber backing to prevent slippage during use. When selecting a carpet mat that will be applied to a smooth surface, choose a model with Smooth Backing. Smooth Backing will lie flush on the smooth floor surface and provide just enough surface friction to keep the mat in place.
Important: Smoothing Backing is not recommended for coarse floor surfaces, like carpeting. For these surfaces, a unique Gripper Backing is available. Gripper Backing features dozens of tiny cleats that are designed to penetrate the surface of carpeting to anchor the mat in place.
Additional Things to Consider
To ensure carpet mats never clash or compromise pre-existing décor, it is wise to consider the following:
1. Color scheme in the context of existing facility design:
What are the dominant colors of the facility? What are the secondary / accent colors? Taking a moment to consider existing décor will make it easier to choose carpet mats that complement or accent existing color schemes.
2. Commercial grade durability.
How many visitors enter / exit the building each day? If the visitor flow is light or moderate, a carpet mat made with high-twist nylon yarn will suffice. However, if the facility experiences a greater degree of visitors each day, it is wise to consider a mat made with more resilient Berber material.
3. Enhancement of building appeal and value.
Carpet mats do more than simply contain dirt and moisture. When properly paired with interior décor, carpet mats may enhance the appeal and perceived value of the commercial space. Custom Logo Mats are also available for businesses that wish to reinforce their brand name, slogan, or logo with guests as they enter / exit the premises.
A Maryland-based company, Eagle Mat and Floor Products has provided large and small businesses alike with the industry's leading commercial safety products for more than 30 years. National customers are invited to shop floor mats online via Eaglemat.com. For businesses located in the Washingtone D.C. Metro Area, Eagle Mat offers "hassle free" floor mat rental, rotation and laundering services to keep facilities looking their absolute best, year-round.