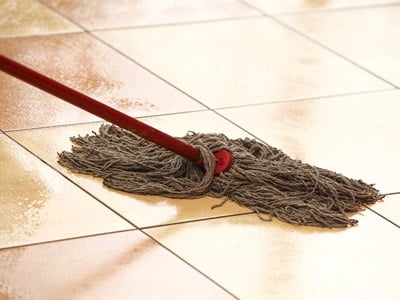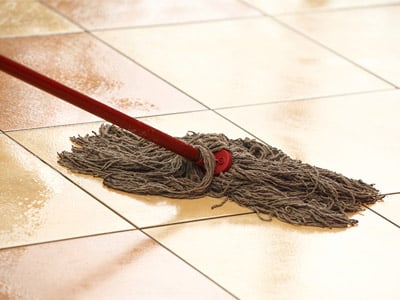 Are you smearing soil around your entryway rather than properly removing it from the floor? If you're using a standard mop, you're just smearing the dirt around, no matter how clean it may look. Consider how mops work – you only rinse after multiple passes, which means each time you place the mop down, you're running it through a soiled area and transferring that bacteria onto other areas of the floor.
Smearing dirt around might look like a quick fix, but your entryways are still filthy. In fact, once your employees or patrons walk through that entryway, the bacteria sticks to the bottom of shoes and ends up scattered throughout the building, further complication clean up.
Full-sized autoscrubbers sufficiently clean what mops leave behind, but cost as much as $7,000, which doesn't include costly annual maintenance fees. Spread and Vac units are somewhat more practical, but can still cost upwards of $2,000, and only fix the issue once it has occurred.
Why waste money on clean up when you can prevent harmful messes from accumulating? Here are the top exterior and interior options for minimizing entryway messes.
Exterior Prevention
Rubber Scraper Mats
Rather than allow debris to enter your facility, fight it from the outside. Rubber Scraper Mats are made of 100 percent Nitrile rubber and provide an anti-slip grip to minimize slip and fall accidents outdoors. Not only do the surface nubs on the surface of rubber scraper mats dislodge and trap dirt, they squeeze moisture from the bottom of shoes. Rubber scraper mats even have anti-microbial features that minimize odors and protect against germs. At only $35 for a 2.5 by 3 foot mat, rubber scraper mats are practical prevention tools to keep your floors dry and clean, and most importantly, ensure the safety of your visitors.
Interior Prevention
Recessed Mats
For the inside of your facility, consider Berber Supreme Recessed Floor Mats. These heavy-duty floor coverings are best used in high traffic areas, including lobbies and sporting facilities. These mats use the "Berber" pattern of staggered nubs with 3-coarse fiber combination allowing for deep, aggressive cleansing. Don't worry about placing them in direct sunlight as the Ultra Violet Stabilizers prevent color fading from the sun. Typically, mats are around 7/16" thick.
Carpet Runners in Lobby and Hallways
If your entryway opens up to a long corridor, consider installing floor runner mats. Waterhog runners are equipped with small nubs that capture water, dirt, and debris effectively. Waterhog Mats can hold up to 1.5 gallons of water per square yard and feature a Water Dam border that also traps dirt and moisture. You can choose from a rubber border in the classic model, or go for the fashion model featuring a fabric, matching border. An elongated runner that covers more space is able to clean dirt and moisture out of shoes each time a person takes their next step. If you want to make an impression, try adding a Half Oval Mat at the end of your runner for a stylish look.
Carpet Mats
If you're looking for mats with wider coverage, consider carpet floor tiles. Berber Supreme Floor Tiles have the same durable qualities as the Berber Recessed mats, but fit together to mimic standard, widespread carpeting. The seams are virtually unnoticeable, and each tile can be easily removed and replaced in case of staining. With regular installed carpet, facilities are forced to rip up the entire floor just to fix one small section. Carpet tiles are easy to install and can be a DIY project with a few basic tools.
Do you want to avoid smearing dirt in your entryway or forced to purchase expensive autoscrubbers to keep floors clean? Prevent dirt and debris from accumulating by cleaning shoes before they have a chance to spread germs and dangerous moisture. Here at Eagle Mat, our team is well versed in facility management. We can analyze your building to determine the best floor coverings so you can aptly mitigate health risks for employees and patrons.