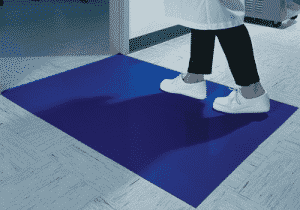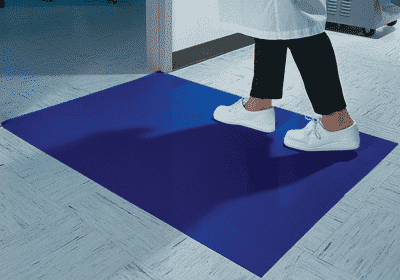 So, what exactly are clean room and sticky mats?
They are special mats designed to trap contaminants before they can be tracked into a sterile or sensitive area. They are used by hospitals, laboratories, and in the food services industry, where some products are manufactured in a sterile environment.
Even though your employees are working in a clean room, they can still have good-looking, functional mats to improve their comfort and safety.
Are these mats disposable?
Some are. Some are sold as pads with peel-away sheets that can be thrown out. Others are actually autoclavable. For example, the Anti-Fatigue Clean Room Mat is designed for long-term repeat sterilization.
What about areas where microbes are an issue?
For areas like this we have Micro Guard mats that are designed with an anti-microbial technology. This anti-microbe characteristic prevents the fiber degradation and odors associated with microbes.
Where are these sticky mats placed?
They are typically placed near the entrance to a clean room, where anyone entering the clean room has no choice but to walk on them for several steps. The surface of the mats and the stickiness will remove all the contaminants on the soles of the person's shoes.
What about Clean Room anti-fatigue mats?
We have some mats specifically designed for ISO Class 5 Clean Rooms. These Anti-Fatigue Clean Room Mats are static dissipative (but they must be grounded, of course.) The surface (RTT) and volume (RTG) resistance is 10,000,000 – 100,000,000 ohms.
These mats are made of 100% molded urethane. They've been tested for dynamic headspace outgassing and extractable non-volatile residue and passed with a very low level of total organics.
We have the mats you need for clean rooms. Whether you need sticky mats or anti-fatigue mats or static dissipative ones, we can make your flooring cleaner, safer, and more comfortable for employees.
Do you have other questions? It's easy to contact us, and we're happy to help you. You can always call us at (877) 333-1018 or email us at sales@eaglemat.com for more information or if you aren't sure what you need.