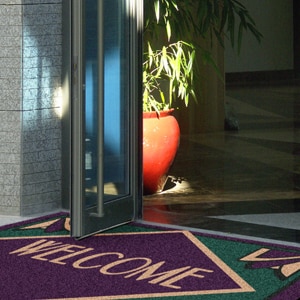 While planning branding and marketing strategies, consider customizing a logo floor mat! These mats make a crucial addition to a company's marketing efforts. Our custom floor mats are printed with leading-edge digital printers. This ensures crisp designs that are both functional and aesthetically pleasing. Why should YOU invest in the best quality logo mats?
Safety
The mats will soak up some of the water and keep it off your floors, which can become very slippery when wet. Customer safety is the number one concern of any business, so anything that you can do to make your establishment safer will automatically benefit your company. Entrance floor mats are the best way for a business to proactively avoid such accidents and liability claims. Intelligent use of outdoor mats and front door mats is the best way to increase safety. Moreover, these floor mat installations remind your guests that they are entering a clean and professional workplace that values visitor safety.
First Impression
Create a custom logo mat and make a lasting impression with your clientele. Greet your visitors with personalized floor matting products using a near-limitless array of vibrant colors and textual effects. Custom logo mats help create a professional look to your entryway. Placing an entrance logo mat with your company name right at the door, acts as a sign board letting people know they are at the right place giving credibility to your brand image.
Branding
Effective visual merchandising involves using a customized floor mat in a store to engage customers, help them find what they're looking for, help them make a purchase decision and lead them to other products they may not have been looking for. Floor mats are the first things that customers see when they enter your business, your brand and logo catch their attention. It is also the last thing they'll see when they leave your building, so it leaves a lasting impression that your customers will remember every time they think about the products or services you offer.
Brand Awareness
Are you looking for an effective way to jumpstart your brand recognition? As the floor mats work towards keeping your floors clean, dry and safe, when customized, they are great at generating brand and product awareness. Good quality, durable custom floor mats can be imprinted with your logo, company name, tagline, website address, social media information, marketing message etc.
Eagle Mat and Floor Products proudly represents the finest in commercial mats and floor covering products in the marketplace. Our company is actively involved in the sale and rental of matting, safety flooring, and other products that help businesses deliver the highest quality of service to clients, patrons, and employees alike.
Do you have other questions? It's easy to contact us, and we're happy to help you. You can always call us at (877) 333-1018 or email us at sales@eaglemat.com for more information or if you aren't sure what you need.