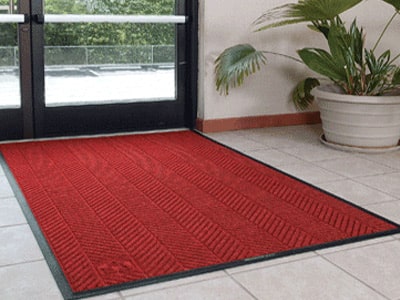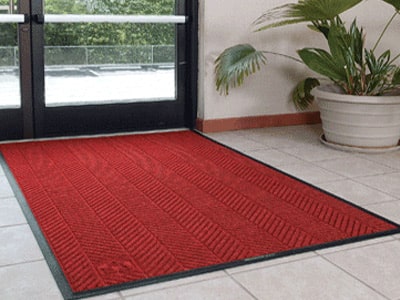 Waterhog floor mats are well-known among slip and fall safety professionals as an excellent tool for tough dirt, grime, and moisture control. To the layman, Waterhog mats likewise stand out for being heavily textured, firm, and colorful mats. They are implemented by a variety of businesses to achieve both safety and hygiene goals. From commercial banks to retail stores and even residential homes, dozens of unique locales leverage the unique construction of the Waterhog mat to keep entryways clean, dry, and safe.
More than 8 million people seek treatment for accidental falls every year, according to statistics published by the National Floor Safety Institute. Take time to reassess your facility this spring, making special note of instances in which indoor and outdoor entry matting might need replaced.
5 Waterhogs for Spring
The Classic
The Waterhog Classic has earned its name, serving as a safety matting staple for many years. The Classic features a waffle pattern that most facility management professionals immediately recognize. Made with the patented Water Dam, this mat can hold up to 1.5 gallons of liquid.
The Fashion
Take all the great features and functionality of the Waterhog Classic, add a fashionable fabric border, and the result is the Waterhog Fashion. Available in an array of colors, this safety mat is ideal for both indoor and outdoor applications where sharp aesthetics are a must.
The Masterpiece
Like the Classic and Fashion, the Waterhog Masterpiece features a tough polypropylene construction ideal for use both inside and out. This mat features a truly unique basket-weave surface texture, however. With raised edges and crush-resistant fabric, the Waterhog Masterpiece is the perfect choice for facilities that want to meet moderate to high levels of traffic with a good-looking entrance mat.
The ECO
Reduce your carbon footprint with the Waterhog ECO Elite! This safety mat is made with 100% recycled plastic water bottles, a practice that helps to reduce waste and energy usage in the commercial manufacturing industry. A visible Green recycling symbol is located on the walking surface to ensure guests and employees recognize your commitment to recycling and sustainability.
The Two-End
Cover large floor spaces with the Waterhog ECO Grand Elite Two-End mat. This truly unique shape and size covers big spaces with an eye-catching design that is available in a variety of colors. A recycled mat, this Two-End model will earn your project LEED certification points.
Free Shipping and 100% Price Match Guarantee This Spring!
Shop Waterhog mats on Eaglemat.com to receive Free Shipping and an industry-leading 100% Price Match Guarantee. For product specifications and order assistance, readers are invited to contact customer services at 1-877-333-1018.