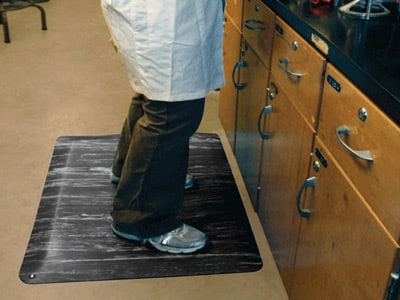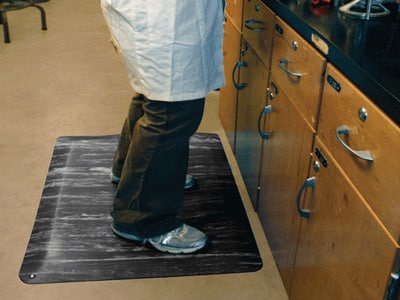 Comfort mats are designed to prevent stress, cramps, and muscle strain that may otherwise be felt when standing on a hard floor surface for many hours at a time. These mats are designed with comfort in mind, providing a soft compressible surface that allows the feet to sink-in for added ergonomic support. In doing so, these mats gently stimulate the muscles of the feet, legs, and lower back. Comfort mats are recognized as essential tools for improving many facets of operations, particularly employee health, safety, and satisfaction.
Creating Comfort with Mats
Customer Service. Comfort mats are most popular in settings where staff members spend a majority of their time on their feet and interacting with customers or guests. By making the environment more comfortable for standing upright, these ergonomic mats make it easier to remain focused, productive, and cheerful despite long work hours. Bars, hotel check-ins, and customer service kiosks are just a few of the most popular applications.
Industrial Settings. Comfort mats play a crucial role in manufacturing centers, along assembly lines, and in laboratories as well. In these settings, ergonomic matting can significantly reduce the incidence of debilitating workplace injury. That's an important goal to attain, since the rate of injuries due to overexertion has risen steadily since 2012 according to the 2016 Liberty Mutual Workplace Safety Index.
Security Checkpoints. Ergonomic comfort matting is ideal for security booths, stations, and checkpoints as well. By alleviating discomfort and fatigue, comfort mats make it easier to remain focused and alert to potential threats. Perhaps you have noticed these mats used by TSA at nearly every airport security checkpoint in the U.S.—most commonly, these checkpoints use a diamond plate anti fatigue mat with yellow safety border that enhances visibility among crowds.
Our 3 Best Comfort Mats
Comfort mats are available in a variety of shapes, sizes, and surface textures. Some are even available with a SMART construction that utilizes eco-friendly materials and manufacturing processes. Browse our 3 best selling comfort mats below, and be sure to visit our Anti Fatigue Mats online store for a full selection of 17 industry-leading models!
Marble Top Anti Fatigue – This mat is a popular option for a variety of businesses, particularly banks, postal facilities, and other commercial outlets. Made with a special anti-microbial technology, this mat provides a well-rounded combination of comfort, durability, and microbial control.
SMART Top Anti Fatigue – If you like the specs on the Marble Top mat above but are looking for something eco-friendly, look no further than our SMART Top Anti Fatigue Mat. The SMART Top is constructed with 100% recycled urethane composite for the ultimate balance of comfort, support, and eco-friendly longevity.
Diamond Plate with GritWorks – This mat is most popular among production plants, manufacturing facilities, and other environments where slight overspray/liquids/grease may fall to the floor. Manufactured with a carbide grit surface coating, this comfort mat may provide up to 50% more traction compared to other leading anti fatigue mats and runners.
Call Today to Learn More About Comfort Mats
Eagle Mat and Floor Products proudly represents the finest in commercial mats and floor coverings in the marketplace. A family-owned and operated business, our team is passionate about helping customers find the perfect matting and flooring products for any given space. For additional information on comfort mats, contact Eagle Mat online or call directly 1-877-333-1018.