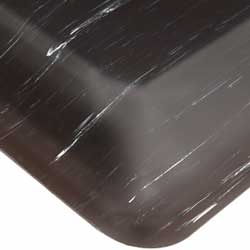 Service businesses rely on employees to deliver goods and services of exceptional quality. Front desk employees stand for long periods of time, assisting guests, answering phones, and taking care of other things. With all this time on their feet, it's very possible that they will experience tired legs and feet, but they can't take a break or sit down. With anti-fatigue floor mats from Eagle Mat, you can feel confident that your front desk staff are ready for whatever happens.
A quality hotel is a place where people will choose to come to relax and enjoy their self. It's crucial for the health of the employee that they have a bit of cushion under their feet to guard against aching knees and ankles, and to allow them to remain alert while on the job.
Businesses should invest heavily on soft floor and anti-fatigue floor mats for their hardworking staff. Such products keep employee areas clean, dry, and comfortable throughout long business hours. Our Anti-Fatigue mats also recognize that the human body is an intricately connected system. We understand that employees who stand for long hours may suffer from foot, leg, and lower back pain. Such pain increases fatigue and may severely reduce employee performance.
Anti-fatigue mats offer businesses a sensible solution that increases both employee morale and productivity. Our collection of anti-fatigue floor mats includes bestselling brands like Soft Top, Marble Top, and Hog Heaven. The selection of anti-fatigue mats on Eaglemat.com is sure to help your business find the ideal solution that will keep your employees smiling!
Marble Top Anti-Fatigue Mat
Marble Top Anti-Fatigue Mats now feature a new non-porous vinyl surface for exceptional abrasion and chemical resistance! These anti-fatigue floor mats also have a permanently antimicrobial treatment that kills bacteria and Exceptional comfort comes from its micro-pure sponge base. Perfect for use in laboratories, pharmacies, and even packaging and postal areas.
SMART Top Anti-Fatigue Mat
SMART Top Anti Fatigue Mats are ideal for preventing worker fatigue. These anti-fatigue floor mats are economically priced and "Green." Built five times stronger than a typical sponge mat. Resilient sponge base is called Rebound – a 100% recycled urethane composite.
Hog Heaven Anti-Fatigue Mat
Hog Heaven Anti-Fatigue Mats are constructed with a 100% commercial-grade Nitrile Rubber surface for superior comfort and resistance to oils and chemicals to prevent slipping. Rubber guaranteed not to crack or curl. The Hog Heaven Anti-Fatigue Mat is one of our best-selling Anti-Fatigue Mats!
Do you have other questions? It's easy to contact us, and we're happy to help you. You can always call us at (877) 333-1018 or email us at sales@eaglemat.com for more information or if you aren't sure what you need.