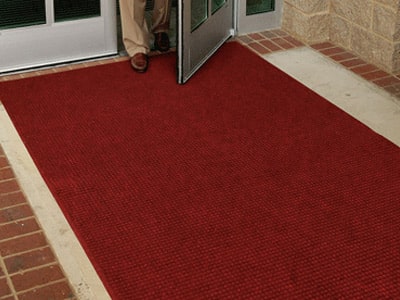 Some folks love the look of hardwood floors. Others couldn't live without the comfort of wall-to-wall carpeting. But a lot of us appreciate the virtues of both. If you're one of those people, you may want to invest in carpet runners or area rugs for your home or business. These functional, fashionable floor coverings are not only visually appealing, but they can also keep you and your guests safe from avoidable slips, trips, and falls.
As hardwood floors have become more popular over the years, so too have area rugs and carpet runners. If you are considering upgrading the look and livability of your hardwood floors in 2021, here is what you need to know:
Why Carpet Runners Matter   
A carpet runner is a long, tailored piece of carpet bound on the sides that goes on top of hardwood stairs. They typically do not cover the entire stair but rather go straight up the middle, leaving a few inches of hardwood exposed on either side.
Runners provide visual appeal and contrast, but that is not their most important feature. They make stairs a heck of a lot safer by minimizing the chances of slipping on the hardwood, especially as people go down the stairs. The carpet runner adds traction and friction making falls less likely, especially if you walk around in socks. It also makes traversing stairs more comfortable by providing some cushioning beneath the feet.
For dog owners, carpet runners can make it easier for older dogs to go up and down the stairs without needing to be carried, which is often the case on hardwood stairs.
Color, Contrast, and Contemporary For Runners and Rugs
You can combine fashion and functionality with runners and area rugs alike by creating a contrast in color with the tone and texture of the wood underneath. The trend in runners and area rugs is towards simpler and more contemporary patterns customized for the specific set of stairs or room.
The past three to four years have seen a rise in rugs and runners in two-color, tightly looped trellis or geometric patterns. In particular, Gray, blue, and neutral colors are having their day not only for their visual pop but also for their subtle striations that are effective at camouflaging dirt and foot traffic. Gray also works well with dark hardwood as they are both cool trends that provide a sharp contrast to each other.
Commercial Runner Mats
Outside the home, runners can increase traction and safety in a variety of commercial settings. At Eagle Mat and Floor Products, we offer an extensive collection of runner mats that are perfect for large lobbies and long corridors. These mats may also be used in commercial locations like loading docks, greenhouses, and food preparation areas. Rubber matting is particularly effective when used along the aisles in kitchens and bars.
If you would like to learn more about our runner mats, please contact us today at 1-877-333-1018 to speak with a member of our knowledgeable sales team.