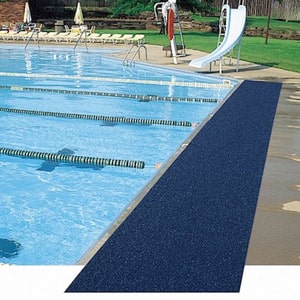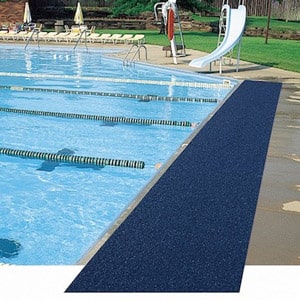 It's never too early to start thinking about spring safety. For water parks, February and March are the perfect time to determine which mats, handrails, signs, and other safety products need replaced in preparation for spring. Spring safety preparedness does not end with new product purchases, however.
Risk assessments and new safety protocols, when applicable, are also fundamental to ensuring the safety of waterpark patrons and employees. Assessments include a facility walk through, during which all sources of potential accident and injury are identified. During the walk through, it is recommended facility managers gather input from employees to better understand accident risks, especially in employee areas.
So, when do pool mats need replaced, and what are the best products to invest in this spring?
When do pool mats need replaced?
There are a few critical signs that a safety mat needs replaced. Look for these signs of wear and tear along pool decks, in locker rooms, and in employee areas. When you see them, take immediate action to have the mats or tiles professional cleaned or replaced.
1. Worn and/or chipped edging. Over time, it's normal for the edging on mats and runners to become chipped or worn (see image above). It's important to remember that edging helps to keep the mat in place while also controlling moisture and debris. In this light, it's easy to understand how worn out edging can eventually lead to slippage, trips, and injury.
2. Shifty mats. If you put your foot on a mat and are able to slide it forward, backward, or side-to-side, that's a telltale sign that the mat is no longer able to provide that traction needed to prevent accidents. In fact, such "shifty mats" often catch patrons and employees by surprise, which can cause an abrupt shift, strain, fall, or injury.
3. No texture. Looking at the surface of the mat, does the surface texture appear to be smooth and flush? If so, that means the surface has become worn down. As a result, the nubs, grooves, and other surface designed may not be cleaning and containing moisture and debris.
4. Faded coloring. Mats tend to lose color when they age, though some models are designed to withstand fading over time. If the mats appear faded, there's a good chance they are losing their ability to absorb moisture and provide traction.
Spring Spotlight: 5 Essential Mats for Water Parks
Replace old and worn-out pool mats with these 5 best sellers, now available on Eaglemat.com.
Vinyl Sponge Pool Mat. These mats feature a unique "spaghetti string" loop pattern that makes them effective in preventing slips and falls, yet gentle enough to be comfortable under bare feet.
Turtle Tile Shower Matting. Looking for an eco-friendly option? Turtle Tiles are made of 100% recycled PVC plastic, and they interlock to provide expansive coverage of unique floor spaces.
Rubber Drainage Mat. These mats are made with commercial-grade Nitrile rubber and feature large drainage holes, making them ideal for use in locker rooms, showers, employee areas, utility sheds, concession stands, and other food service areas.
Safety Grid Pool Matting. Textured vinyl ribs provide aggressive slip protection, all while staying comfortable under bare feet. These mats are most popular for use in saunas, locker rooms, and other moisture-prone areas.
Shop Pool Mats on Eaglemat.com
Shop pool mats on Eaglemat.com to receive Free Shipping and 100% Price Match Guarantee. For more product information and order assistance, call Eagle Mat services at 1-877-333-1018.