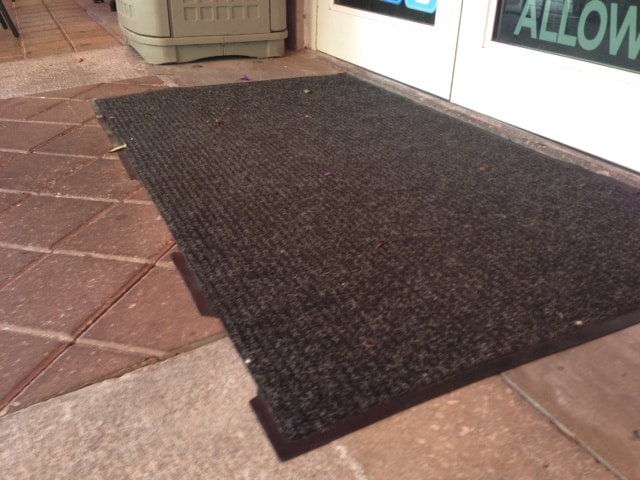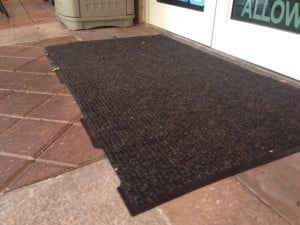 Fall is in full swing, and soon it will be winter. Across the country, property owners and business managers are preparing for a potentially dangerous combination: Hustling and bustling shoppers, and unpredictable weather.
Our Fall Product Spotlight series provides an excellent snapshot of the season's best safety products, and it is highly recommended that readers visit the article series to better acquaint themselves with must-have carpet mats, grill systems, wet umbrella bag stands, and more. Readers will notice an emphasis on safety matting this fall; commercial floor mats are one of the most cost effective means of preventing accidents, and it is highly recommended that businesses proactively evaluate the condition of their matting products in preparation for the coming months.
But when is it time to replace your facility's floor mats? Each facility is different both in function and in the number of visits it receives, so there is no magic formula for all. There are, however, several signs that floor mats are in need of replacement.
Time for Change: 6 Examples of When New Commercial Matting is Needed
1. Rubber Edging Becomes Chipped and Worn
In the picture above, note how the edges of the entrance mat are chipped and damaged. In some areas, large sections of missing rubber siding extend all the way in to the carpet center. This presents a very real danger, as mats are more easily shifted and skewed when the anti-skid rubber chips away. "Shiftiness" is a telltale sign that a new mat is necessary.
2. Mat Shifts / Skids Regularly
As noted above, mats must be replaced when they begin to shift or slide regularly. This is typically the result of the non-skid rubber backing becoming chipped, damaged, or worn over time. In some instances, the damage is visible (as pictured above). Damage may not be visible, however, if it occurs on the underside of the mat. In either case, mats should be monitored for overall stability and replaced as they become less able to stay in place during the day.
3. Surface Texture Becomes Worn
Mats may show signs of wear and tear over time. Specifically, the surface of nylon-twist carpet mats may appear to become flatter and more worn. This decreases the ability of the mat to clean and contain dirt / moisture from guests' shoes, which ultimately leads to more debris accumulation within entryways and lobby areas.
4. Color Becomes Faded
Mats that become faded over time present more of an aesthetic issue than a safety concern. Still, it is important to consider what floor mats say about your place of business. Faded, stained, or sun-bleached mats present an air of disrepair and should be replaced to preserve an overall professional and clean image.
5. Before the Onset of the '"Busy Season"
Any retail business owner can attest to the fact that customer flow is not constant over the course of the year. Depending on your industry, there may be a "Busy Season" in which customers, vendors, or other guests frequent your facility more than any other time of year. It is wise to associate this increase in activity with a corresponding increase in the risk of slip-and-fall accidents and act accordingly, replacing matting product in all major points of entry.
6. In Anticipation of Seasonal Weather Changes
Like customer flow, weather is another variable that does not remain constant throughout the year. No matter where your facility is located, there are bound to be seasons in which wind, rain, snow, or ice accumulation make for dangerous conditions. Plan for these seasonal weather changes, and limit your exposure to liability by ensuring that all safety matting products are thoroughly cleaned, in good condition, and properly installed.
Replacing Floor Mats: Things to Consider
After making the decision to replace current mats, a second question arises: Should you replace your current mats with the same mat as before, or should you choose something new or different? There are a variety of materials, textures, and designs from which to choose, so how do you decide?
In our Fall Product Spotlight article on Ultra Absorbent Carpet Mats, we explored the following 3 criteria for choosing effective matting solutions based not just on functionality, but on how they may / may not enhance overall facility value as well:
Color scheme in the context of existing facility design
Commercial grade durability
Enhancement of building appeal and value
Commercial Matting Replacement with Eagle Mat and Floor Products
A Maryland-based company, Eagle Mat and Floor Products has provided large and small businesses alike with the industry's leading commercial safety products for more than 30 years. National customers are invited to shop floor mats online via Eaglemat.com. For businesses located in the Washingtone D.C. Metro Area, Eagle Mat offers "hassle free" floor mat rental, rotation and laundering services to keep facilities looking their absolute best, year-round.