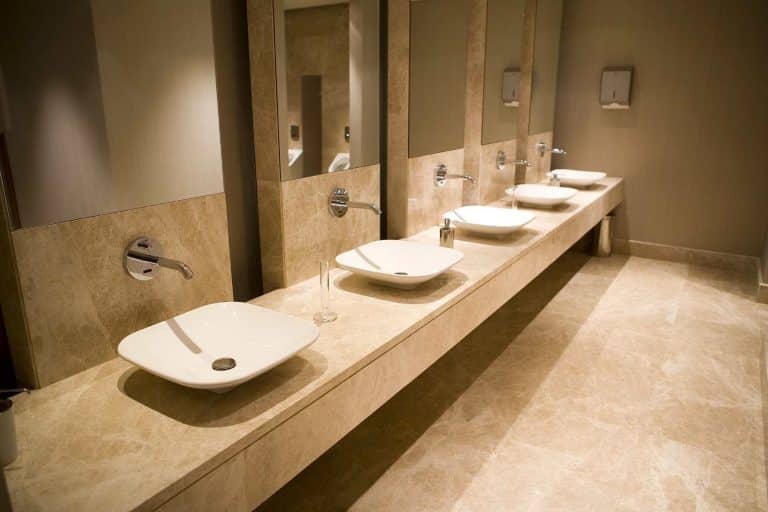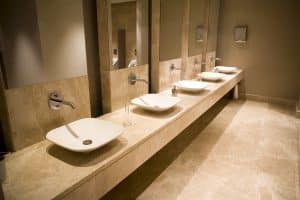 The best bathroom flooring for your commercial space depends on several factors because different types of commercial businesses have very different needs and challenges. Let's examine the possibilities one at a time. No matter what your application is, we have a solution for you.
Some things to consider when choosing the bathroom floor are as follows:
Is it a high-traffic area?
Do you need to worry about vandalism?
Do you need to worry about microbes or contamination?
Are chemical spills a possibility?
Will people be wearing work boots or high heels?
How easy or hard is it to clean?
Will people be tracking dirt or water into the bathroom?
Also, is the bathroom for employees? Customers? Or both?
Schools
If you need flooring for a school bathroom, you have to contend with heavy traffic. The flooring needs to be sturdy and easy to clean—because kids make a mess—and you also have to be concerned about vandalism.
For this kind of commercial situation, we might recommend a sheet flooring that is a breeze to clean and is not going to have individual tiles, for example, that could be pried up, removed, or damaged.
Hospitals or Medical Environment
For this application, you might need mats that can be sterilized, or mats that are designed to remove and trap debris from your shoes in a designated clean area. You also might want a Microguard Mat at the entrance to the bathroom which will help keep odors and microorganisms down.
Toilet or Urinal Mats
Maybe you just need some toilet mats to keep the bathroom clean and tidy. These mats are washable and are made of an odor-resistant material.
Manufacturing Facility
A manufacturing facility bathroom not only has to deal with heavy traffic, but also has to protect against chemical spills. Here you need an extremely sturdy floor like our Diamond Tread interlocking stick-down tiles.
The possibilities are endless. Whatever you choose, let us help you select the best commercial bathroom flooring for your business. Do you have other questions? Are you not sure what you need? It's easy to contact us, and we're happy to help you. You can always call us at (877) 333-1018 or email us at sales@eaglemat.com for more information.