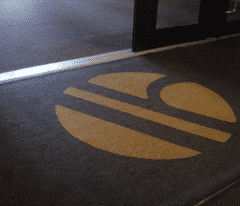 Facility managers are frequently exploring ways to reduce maintenance costs with entrance mats. Did you know that an estimated 80 percent of debris brought into a facility is carried in by the bottom of shoes? In areas that experience a high amount of foot traffic, the amount of dirt, dust and debris being left over is even more than the eye can see.
Entrance mats catch the majority of the dirt and debris as soon as the visitors walk through the door. These mats are designed to absorb moisture and to help scrape some of the dirt, sand and other types of debris from the bottom of the shoes before the person steps onto the actual flooring.
Our high-quality front door mats are available in a range of materials including carpet, vinyl link, and rubber. Slip-and-fall accidents are common and cause businesses an inordinate amount of time and money. Whether your commercial business is small or large, properly maintaining floors and entryways can seem like a daunting task. Especially if wet weather is a factor in your area, you can spend thousands of dollars just trying to keep up with it.
Entrance floor mats are the best way for a business to proactively avoid such accidents and liability claims. Intelligent use of outdoor mats and front door mats is the best way to increase safety. Moreover, these floor mat installations remind your guests that they are entering a clean and professional workplace that values visitor safety.
Make sure to check out our Premier Carpet Entrance Mats, our most popular, highest-quality rubber back carpet mats on the market. Made of the finest high-twist, heat-set, solution dyed nylon yarn. This high-grade yarn is extremely strong. Preventing shoe depressions into the mat while trapping dirt underneath the surface fibers. Definitely the best combination of aesthetics and functionality. The dirt and debris are filtered underneath the colored surface and filtered to the rubber borders preventing color fading and ensuring a nice clean looking entrance mat.
Since entrance floor mats and runners are protecting the flooring and acting as a barrier, it reduces the need to steam clean carpets or to buff and refinish other types of flooring as often. As a result, you're paying less for maintenance costs and it will help to keep your floors looking like new much longer than they would without this type of protection.
Eagle Mat and Floor Products proudly represents the finest in commercial mats and floor covering products in the marketplace.  Our company is actively involved in the sale and rental of matting, safety flooring, and other products that help businesses deliver the highest quality of service to clients, patrons, and employees alike.