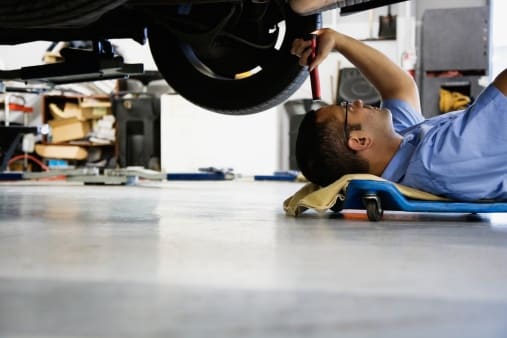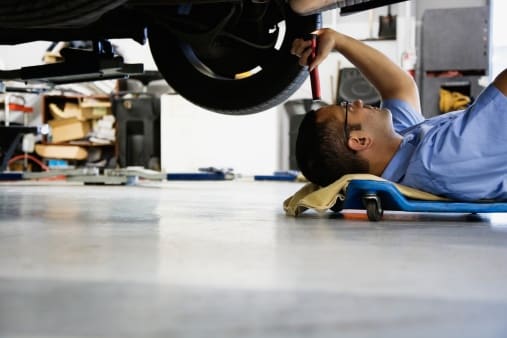 Garage mats and special flooring not only protect the inside of your premises from dirt and water and protect individuals from falling but they can also be a marketing measure. We have all kinds of fashionable and practical solutions for your garage flooring needs.
Flooring for the garage faces different challenges than the flooring in the rest of your commercial space. Not only are vehicles coming in and out tearing up the floor, but you have to deal with water, dirt, gravel, and chemical spills like antifreeze or oil. Also, garage floors tend to be concrete, which is a tough surface for employees to stand on all day.
Take a look at our Garage Flooring page, and you can see a wealth of choices. Diamond Tread garage tiles, for example, are a cinch to install with an easy peel-and-stick method. They come in a dozen different colors, so you can even use several colors to make a pattern. These tiles are made of a hard-wearing polyvinyl that is guaranteed not to crack or curl.
Our Ribbed Pattern roll-out flooring is a breeze to install. This flooring not only channels away water and debris, but protects the hard surface below from corrosive chemicals like street salt or battery acid. To clean it, you can sweep it or just hose it down.
We even have some special mats for motorcycles. These are easy to clean and have an optional Freedom logo available.
For the eco-minded, we have Eco Recycled Garage Flooring that is interlocking tiles needing no adhesive for installation. This flooring is 100% recycled vinyl and is available with an optional beveled edge for safety.
It's important to keep garage flooring clean because if it becomes very dirty, then it creates the problem of adding to dirt and water being tracked through your commercial space. You want your flooring to solve a problem, not add to the problem.
As we mentioned in an earlier article, the statistics for slips and falls are staggering. Use appropriate garage flooring to protect your floor and your business from these types of avoidable accidents.
Whatever you choose, clean garage flooring is a big plus for your business. Do you have other questions? Are you not sure what you need? It's easy to contact us, and we're happy to help you. You can always call us at (877) 333-1018 or email us at sales@eaglemat.com for more information.