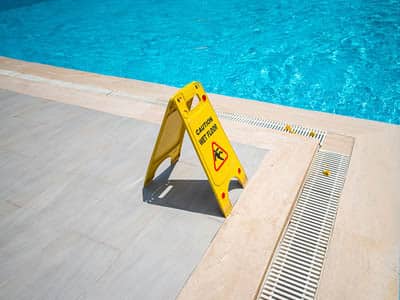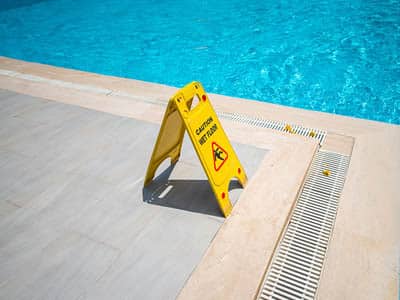 Across industries, few things are more important than the health and safety of the end user. In the recreation and hospitality industry, patrons' health and safety takes on added importance since the use of amenities entails direct exposure to wet areas, chemicals, and other potential health risks. In this article, we explore the 3 primary areas where patrons are most susceptible to physical injury and infection. Browse those areas below, taking note of the safety mats and protocols that are most popular in protecting visitor health and safety.
Pool Decks
Although wet and messy, pool decks do not have to be a difficult place to prevent accidents. Vinyl sponge pool mats are often used to absorb water as it splashes onto the deck, making them one of the most effective ways to reduce the risk of slips and falls. Many waterparks focus on utilizing personnel as well, charging lifeguards with the responsibility of always reminding patrons—especially young children—to walk carefully when entering, exiting, and moving alongside the pool.
Locker Rooms
Within locker rooms, a unique set of challenges must be addressed in order to maintain patron safety and health. As a changing area, locker rooms are prone to liquid accumulation and puddles from wet swim trunks, towels, lotions, and other messy liquids.
Shower Stalls
Like locker rooms, shower stalls have a unique set of challenges when it comes to health and safety. In residential settings, bathtubs account for 285,842 emergency room visits each year. Waterparks are wise to keep that sobering statistic in mind. Turtle Tile Shower Matting is specifically designed for these areas to not only reduce slips, but to also keep the feet and toes lifted above any excess liquid and bacteria known to accumulate in shower areas.
Invest in Pool Mats This Summer
An injury can put a damper on what is otherwise a fun-filled season. This summer, keep your family and friends, or customers safe with the proper safety tips. For more information on outdoor floor mats, contact Eagle Mat at (877) 333-1018 and discuss the best and most practical options for your waterparks' pool decks, locker rooms, and shower areas.