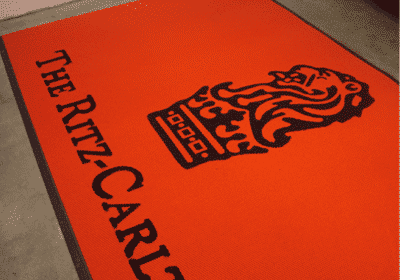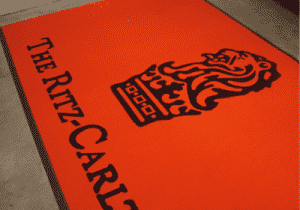 At Eagle Mat and Floor Products, we are proud to offer one of the largest and most diversified collections of commercial floor mats and facility safety products available online. In honor of summer, our editors have assembled this list of our most popular logo mats for businesses like banks, hotels, and other commercial spaces.
Carpet Logo Mats. Carpet mats are among the most popular entrance/wiper mats available. Not surprisingly, carpet logo mats round out the top of our "most popular logo mats" list. The olefin material is a natural canvas for a wide variety of detailing, making carpet logo mats one of the most customizable options available. For a deep range of colors and available 3D printing, look no further.
Rubber Logo Mats. Rubber mats are easily customized with your business's logo or crest, creating a memorable entryway your guests will always remember. Rubber mats feature unique surface texture that both cleans and squeegees shoes dry, making these mats highly effective in accident prevention. Best of all, rubber mats are designed to withstand snow, rain, ice, and other serious weather swings.
Waterhog Logo Mats. The Waterhog mat is one of the industry's best selling commercial matting products. Now, Waterhog mats can be customized with your business's logo! Waterhog Logo Mats feature the very same crush-proof and weather resistant Polypropylene construction for superior cleaning ability and longevity. Logos are added to these mats using a special laser-cut inlay process to ensure crisp detail that does not compromise the mat's function.
Berber Logo Mats. Customize a berber entrance mat with a logo to add a little branded pizzazz to your entryway. Berber Logo Mats are available in a variety of different colors and feature the same hi-low tread pattern that makes the berber mat so effective and well-known.
Anti-Fatigue Logo Mats. Perfect for use in manufacturing areas, labs, and other areas where employees spend most of their time standing, anti-fatigue logo mats deliver just as much function as aesthetics. Also known as ergonomic mats, this special type of matting "squishes" underfoot to stimulate blood flow and reducing cramping through the feet, legs, and lower back.
Design Your Logo Mat Today
Shop logo mats on Eaglemat.com and begin designing your company's logo mat, today. All online orders receive complimentary image upload, proofing, and shipping! For additional assistance, call Eagle Mat Client Services at 1-877-333-1018.