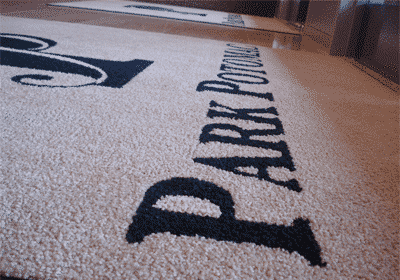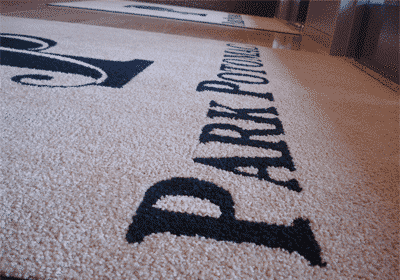 Logo Mats are a great choice for all kinds of floor mat applications. They not only do what mats do, which is make floors safer, but they also look terrific and can be part of an advertising or branding plan.
At Eagle Mat, we have several different kinds of Logo Mats including Waterhog Logo Mats, Anti-Fatigue Logo Mats, and Berber Supreme Logo Mats. Here's what you need to know.
Washing. Check the manufacturer's instructions for washing. Almost all mats can be cleaned with a hose, but some can be also be laundered in a machine like the Graphic Impressions Logo Mat. Then you just lay them flat to dry.
Design. We can recreate the design of your choice, but like a real logo, simple is best. Keep the pictures or words simple, so it's easy to read and understand. Intricate designs can be visually interesting, but they can also be hard to read. There's a delicate balance.
Orientation. You will have to decide if you want your design to be displayed horizontally or vertically. This can be determined by the design itself and/or it can be determined by where you want to place the mat. If a customer is standing in the line facing forward, you don't the person to have to turn their head 90 degrees to read your message.
White (blank) Space. Make sure to include some blank space so the design isn't too busy. This gives your eye a rest and makes the message much easier to grasp.
Contrast. Include enough contrast between the design or lettering and the background to make the message stand out. If the contrast is too low, then you lose a significant portion of the population, who won't be able to discern the message. High contrast helps those with vision handicaps.
Setup. In most cases, there is no charge for the setup of your design, and you will get to see a proof before pulling the trigger.
Logo mats look great, and many people don't use them only because they don't know of their existence. So, instead of a solid color mat, consider a logo mat to show the public your brand or your message. We have logo mats available for all your applications with more colors available than can be listed here. Logo mats are not big-ticket items, but they can really make your premises look classy.
Do you have other questions? It's easy to contact us, and we're happy to help you. You can always call us at (877) 333-1018 or email us at sales@eaglemat.net for more information or if you aren't sure what you need.